Lamb Roast
This version of the roasted classic gives off a bold flavour with its garlicky olive relish on the side. Chefs can explore different  flavours by adding or substituting herbs in the marinade.
Main course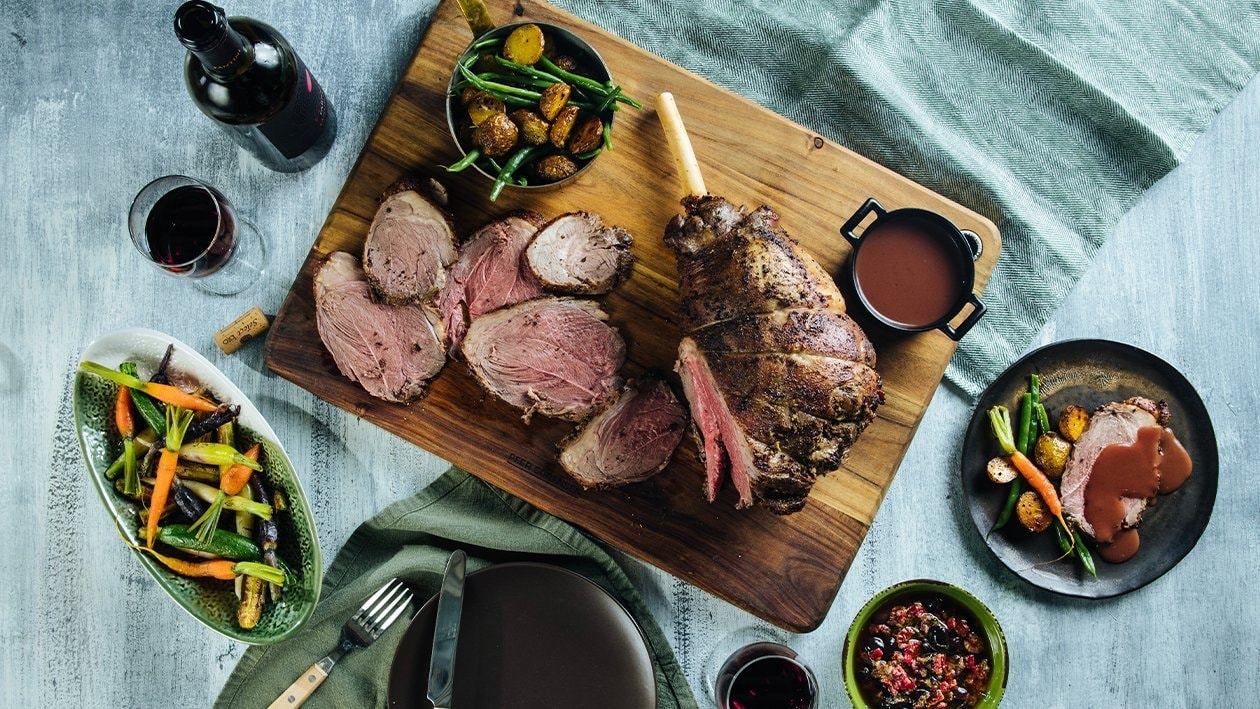 Ingredients
Lamb Preparation
Black Peppercorns, crushed

3.0 g

Whole Grain Mustard

40.0 g

Leg of Lamb (bone-in)

1.5 kg

Onions, peeled or sliced in quarters

150.0 g

Garlic Cloves, peeled and crushed

30.0 g

Carrots, peeled and cut into large dice

300.0 g

Celery, sliced into 1-inch segments

300.0 g

Rosemary Leaves (fresh, from around 5 sprigs)

10.0 g

Red Wine (for deglazing)

200.0 ml

Butter, cold pats

100.0 g
Olive Relish Preparation
Kalamata Olives (or Black Olives), pitted and drained

100.0 g

Green Olives, pitted and drained

100.0 g

Smoked Pimientos (or Roasted Bell Peppers), cut into large dice

150.0 g

Red Onions (or Shallots), finely sliced

50.0 g

Extra Virgin Olive oil

60.0 ml

Italian Parsley, freshly chopped

10.0 g
Preparation
Lamb Preparation

In a small mixing bowl, combine the fresh chopped herbs with the rest of the ingredients for the marinade. Mix well and adjust seasoning.
Pour the marinade over the lamb. Let it sit for at least 30 minutes to an hour.
Pre-heat oven to 400F.
Place the lamb on a rack over a baking pan or tray.
Roast the lamb for 30 minutes until it has browned.
Remove from the oven, transfer the vegetables to the baking pan with the lamb drippings.
Return to the oven, and bring the temperature down to 320F and continue to roast for 3 hours. Cook to desired doneness (rare 120F, medium rare 125F, medium 135F, medium well 145F, well-done 155F).
When the lamb is done, remove from the oven, lightly cover with foil and let it rest.
Discard the excess oil from the baking pan.
Place the baking pan over a stove. Heat over medium heat. Deglaze with red wine.
Add the diluted Knorr Demi Glace Sauce Mix (50g diluted in 500ml water). Simmer for 5 minutes.
Pass the sauce over a strainer. Transfer the sauce into a sauce pot.
Return the pot to the stove. Bring the sauce to a simmer. Add the remaining red wine. Taste and adjust seasoning.
Turn off the heat and mount the sauce with butter.

Olive Relish Preparation

Combine all the ingredients together in a non-reactive bowl.
Taste and adjust seasoning.

Presentation

Place cooked lamb on prepared plate and serve olive relish on the side.