Meatball Kaldereta
This Kaldereta is made special by using tender meatballs made with a combination of pork and beef. Guests will enjoy this with a bowl of hot rice!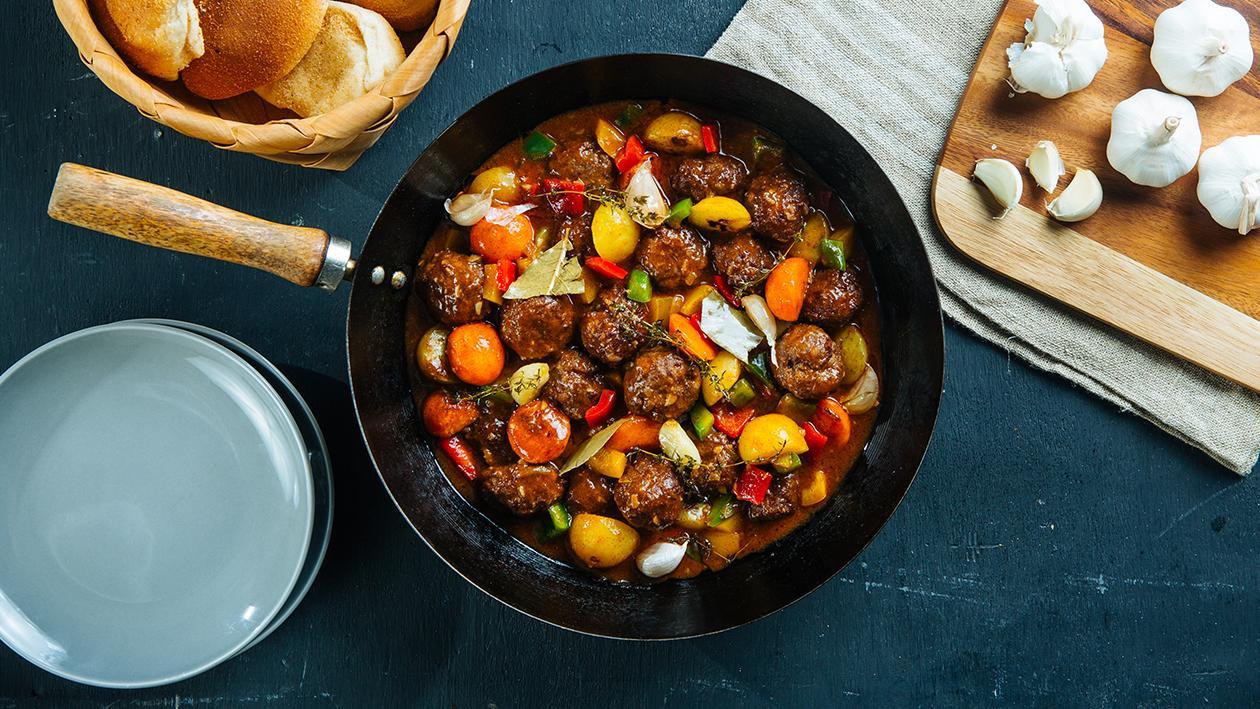 Ingredients
Meatball Preparation
Garlic, finely chopped

35 g

White Onions, finely chopped

50 g

Banana (ripe), mashed

120 g

Black Pepper, crushed

3 g

White Onions, brunoised

65 g

Garlic Confit, prepared

20 g

White Onions, chopped

15 g
Sauce Preparation
Liver Spread (market form)

25 g

Cheese (quick melt), grated

20 g
Presentation
Carrots, parisienned or cut into large dice, blanced

50 g

Potatoes, parisienned or cut into large dice, blanced

50 g

Mixed Bell Peppers, seeded and cut into large dice, sauteed

30 g
Preparation
Meatball Preparation

For the meatballs, combine everything in a bowl and form balls weighing 25g each. Flash fry in hot oil, then set aside.

Sauce Preparation

In a sauce pot, sauté the onions and garlic until fragrant. Add the tomato paste and liver spread. Continue to stir while adding the water, tomato sauce and Knorr beef broth.
Bring to a boil then add the cheese. Mix well and adjust seasoning if necessary by adding Knorr Rostip Seasoning Powder.
Add the meatballs and continue to simmer for another 10 to 15 minutes.

Presentation

Transfer meatballs onto prepared bowl and add vegetables on top. Serve immediately.