Plant-based Sweet and Sour Meatball
Plant-based tender meatballs with every inch beautifully coated with its rich sweet and tangy sauce. Offer this delectable dish and watch your diners clean up their plates completely in no time!  
Plant-based Meat
Main course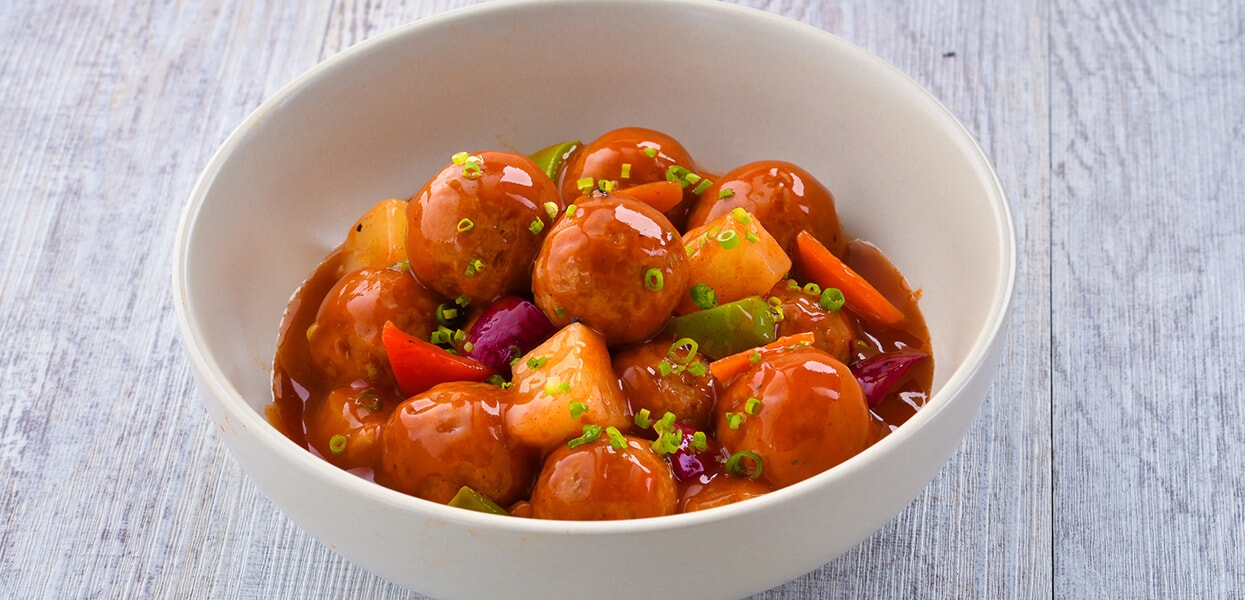 Ingredients
Preparation
All Purpose Flour

180.0 g
Cooking
Red Onions , cut into medium squares

120.0 g

Ginger, cut into thin strips

45.0 g

Red Bell Pepper , cut into medium squares

80.0 g

Pineapple Chunks (optional), including the syrup from the can

80.0 g

Cornstarch Slurry

45.0 ml
Preparation
Preparation

20 minutes

Chop the NoChicken burger and place in a food processor.
Add the water, onions, and ginger.
Process until smooth and homogenous, resembling a farce.
Form into 45g ""meatballs"" 
Lightly coat in the flour and deep fry until golden brown
 Set aside.

Cooking

15 minutes

Heat the oil and saute the onions, ginger, bell peppers and carrots.
Stir in the tomato ketchup, pineapple chunks and its syrup, brown sugar and oyster sauce.
Simmer for 1 minute. Add the vinegar and simmer until there's no raw vinegar taste.
Season with Aromat and thicken the sauce with the slurry.
Add the cooked 'meatballs"" into the sauce and simmer for 1 minute. Serve hot.