Sisig Fried Rice
Sisig is truly a staple in Filipino restaurants. Reinvent the dish by turning it into flavorful fried rice!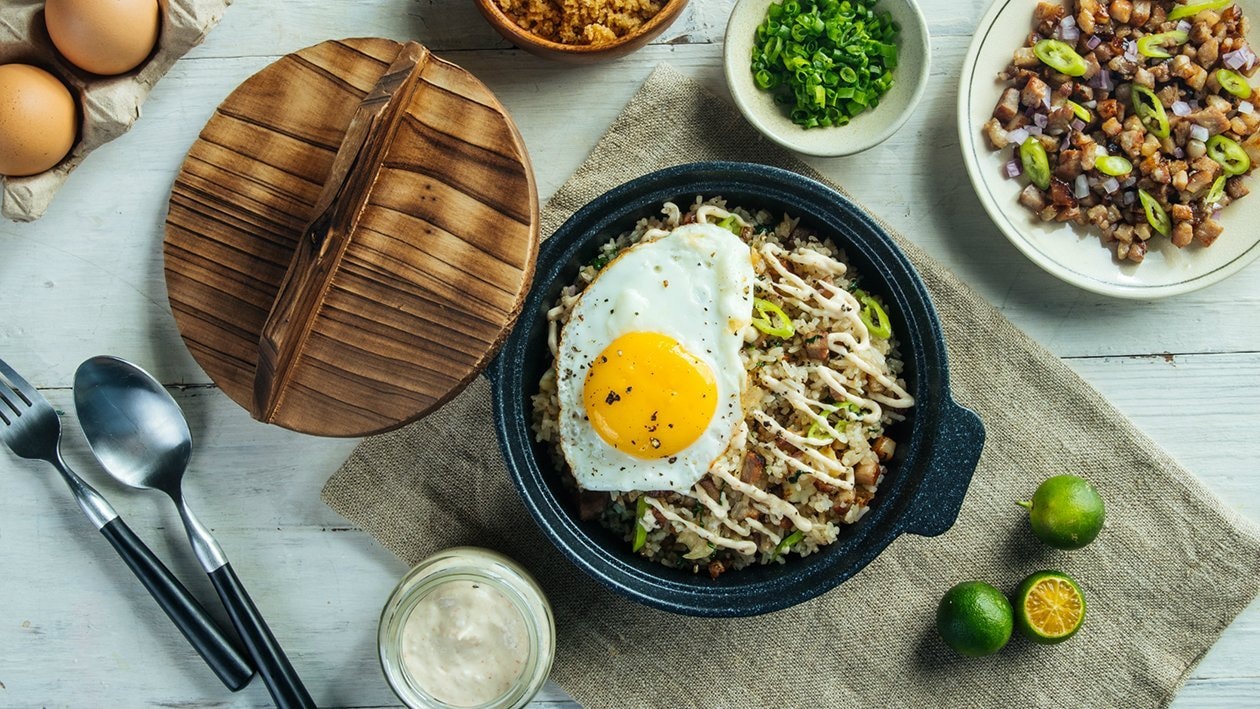 Ingredients
Sisig Preparation
Black Pepper, crushed

3.0 g

Red Onions, brunoised

50.0 g

White Onions, brunoised

50.0 g

Green Finger Chilies, thinly sliced

2.0 pc
Soy Dressing Preparation
Rice Preparation
Jasmine Rice (day-old), cooked

2.0 cup
Presentation
Garlic Cloves, peeled and crushed

10.0 g

Kangkong Leaves, chiffonaded

20.0 pc

Chicharon, crushed

10.0 g

Spring Onions, finely chopped

5.0 g
Preparation
Sisig Preparation

Marinate pork belly with Knorr Liquid Seasoning, Knorr Rostip Powder and crushed black pepper. Place in a tightly sealed container and store in the chiller.
Grill the pork belly until cooked through. Let it cool down for a few minutes, then chop the pork into small dice.Transfer the diced pork into a bowl.
Add the onions and the chilies. Set aside in a container until ready to use. Chill if not going to be used immediately.

Soy Dressing Preparation

Combine the 2 ingredients together in a bowl. Store in the chiller until ready to use.

Rice Preparation

Place the rice in a mixing bowl.
Add the seasoning to the rice and toss to combine the rice with the seasoning.
Set aside until ready to use.

Presentation

Heat wok over medium to high heat.
Add the oil and sweat the garlic.
Add the seasoned rice. Continuously stir the rice with a metal spatula to ensure that it is heated through. Be careful not to burn the rice. Taste and adjust seasoning if necessary. Transfer the rice into a stainless bowl.
Using the same wok, wipe out any excess ingredients. Over low to medium heat, add the oil, then the sisig.
Add the rice, mix well with the sisig.
Drizzle with the soy dressing, and the kang-kong leaves. Toss to incorporate all the ingredients together. Taste and adjust seasoning.
Transfer the rice onto a serving plate. Best to fill in a bowl that would fit 2 cups of the rice and unmold over a soup plate.
Top the rice with fried egg and sprinkle of crushed chicharon and spring onions.