Sizzling Squid in Oyster Sauce with Bellpeppers
Serve fresh, sizzling squid to your customers. Create this easy-to-prepare appetizer or main course packed with bold and sumptous flavors!
Main course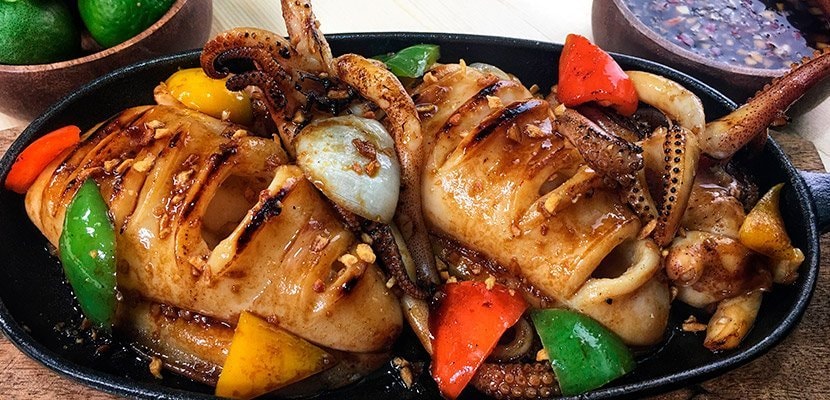 Ingredients
Marinading the Squid
Squid, large pcs, cleaned body and head (beaks and inks removed)

3.0 pc
Making the Glaze Sauce / Sizzling Sauce
Black Pepper, crushed

2.0 g
Grilling
Assembly & Garnish
Mixed Bellpeppers & White Onions, sliced to pieces and sautéed or grilled

30.0 g
Preparation
Marinading the Squid

1 hour

Make 4 line cuts/incisions on top and bottom of the squids' body. Place in a bowl with the remaining ingredients including the cleaned squid head with tentacles.
Marinate for at least an hour up to half day in a chiller. Set aside.

Making the Glaze Sauce / Sizzling Sauce

10 minutes

For grilling, transfer the remaining marinade liquid to a pot. Add water, crushed black pepper, brown sugar and dark soy sauce.
Mix well, apply high heat and bring to a boil then simmer until its slightly reduces. Set aside.

Grilling

15 minutes

Add oil to the grill pan.
In high heat, grill the squid body and squid heads. Make sure to create a nice grill mark on each side. Cook for 3 minutes each side. Note: do not overcook; you may still cook it through the sizzling plate.
Apply an ample amount of glaze on each turn or when its almost cook.

Assembly & Garnish

5 minutes

Add margarine to the hot sizzling plate. Add the grilled squid body and heads and drizzle w/ the sizzling sauce.
Garnish with cooked mix of bellpeppers with white onions and fried garlic bits.
Serve with soy vinegar dip and some dayap or calamansi on the side.