Smoked Beef Brisket with Mac and Cheese
Slow cooking beef over fire creates a tender, melt-in-your-mouth brisket with irresistibly smoky and concentrated flavors. Serve it with creamy mac and cheese and hickory barbecue sauce slathered on the brisket for an extra savory-sweet pop
Main course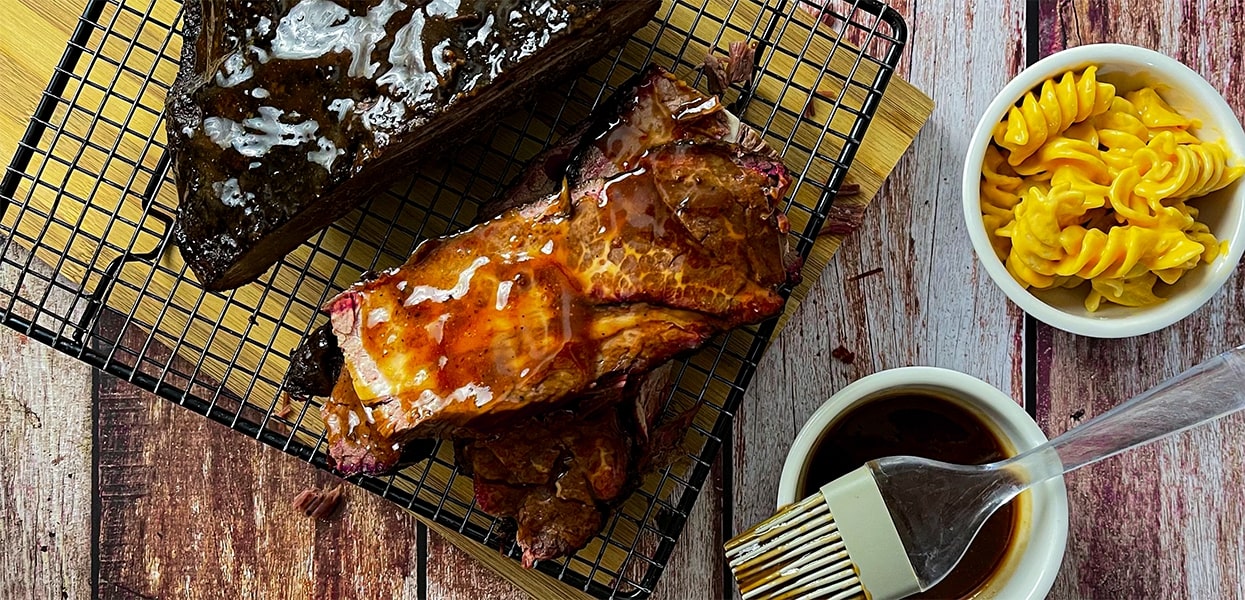 Ingredients
Smoked Beef Brisket
USDA Choice Beef Brisket, whole or prepared

6.0 kg

Pepper, coarse ground

100.0 g

Apple cider vinegar

250.0 ml

Yellow MustardAmerican

150.0 g
Creamy Macaroni and Cheese
Cauliflower, blanched and sliced

300.0 g

Gruyère Cheese, shredded

100.0 g

Mozzarella Cheese, shredded

100.0 g

Cheddar Cheese, shredded

100.0 g

Elbow Macaroni, cooked

800.0 g
Hickory Barbecue Sauce
Black Pepper, ground

2.0 g
Preparation
Smoked Beef Brisket

1000 minutes

Trim the brisket to remove all sinew and excess fat. Make sure to leave 1/4 inch fat on the brisket.
Pat dry the beef, then rub the yellow mustard all around the surface.
Prepare a dry rub by combining the pepper and Knorr Beef Seasoning Powder together. Sprinkle this all over the meat.
Create a cider spritz by mixing the water, apple cider vinegar, and Knorr Liquid Seasoning. Place this liquid in a spray bottle.
Smoke the beef at 250F for 8 hours while spraying the meat with the cider spritz after 4 hours every 30 minutes.
After 8 hours, the internal temperature should be around 165F. Wrap the brisket with butcher paper. 
Continue cooking the beef brisket at 250F for 4 to 5 hours more and until internal temperature reaches 205F.
Place the smoked beef brisket in a styro box or cooler and leave for a minimum of 2 hours before slicing.

Creamy Macaroni and Cheese

45 minutes

In a saucepot, render the bacon or melt the bacon's white fat in low heat.
Add the cauliflower, Knorr Cream Soup Base, Gruyère cheese, mozzarella cheese, cheddar cheese, cooking cream, and Knorr Aromat in the saucepot.
Simmer for 3 minutes or until all three kinds of cheese are melted.
Throw in the elbow macaroni and simmer for a minute.
Place the mac and cheese mixture in a baking dish or ramekin.
Sprinkle the top with mozzarella cheese and breadcrumbs.
Preheat the oven to 350F for 15 minutes. Bake the mac and cheese in the oven for 6 minutes or until the cheese is melted.
Let the mac and cheese rest for 5 minutes, then serve with the smoked beef brisket.

Hickory Barbecue Sauce

55 minutes

In a pot, heat the cooking oil and sauté the onions until it's caramelized.
Add the garlic and fry for about 3 minutes.
Next, pour the tomato paste and let it cook for 5 minutes or until it starts to release oil.
Once it's ready, add the vinegar, sugar, chili powder, and pepper into the pot.
When it starts to boil, pour in the water and Knorr Barbecue Sauce Sauce. Let it simmer for 30 minutes and blend until smooth. 
Pair the smoked beef brisket with this barbecue sauce.