Spinach Lasagna with White Sauce
Let customers indulge in this creamy lasagna with three kinds of cheese and spinach. Sprinkle even more parmesan cheese on top before baking for a perfectly-browned crust!
Main course
Chicken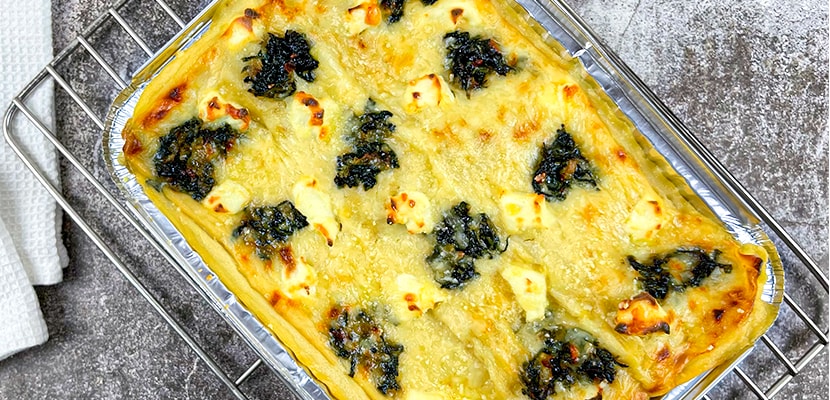 Ingredients
Lasagna White Sauce
Cooking Cream or All-Purpose Cream

250.0 ml

Evaporated Milk , canned or tetra

300.0 ml
Spinach Base
White Onions, chopped

50.0 g

Spinach, fresh and chiffonade

300.0 g

Black Pepper, ground

1.0 g
Lasagna Assembly
Butter, unsalted and soft, for bottom layer only

5.0 g

Lasagna Sheet, pre-cooked, 1 per layer

4.0 pc

White Sauce, prepared from part 1, 40g per layer

200.0 g

Mozzarella, grated or market form, 15 g per layer

60.0 g

parmesan cheese powder, for top layer only

3.0 g
Preparation
Lasagna White Sauce

14 minutes

Mix the water and Knorr Cream Soup Base Mix in a bowl at ambient temperature.
Place all the ingredients, including the soup base mix, in a saucepot and mix well.
Apply medium heat and bring the pot to a boil. Let it simmer for 2 to 3 minutes and stir well from time to time.
Afterwards, set aside to cool before storing inside the chiller until use. Make sure it's cold during the lasagna assembly in the last part.

Spinach Base

15 minutes

Add oil to a pot and turn on the stove to medium heat.
Sauté onions and garlic until fragrant.
Add the spinach and continue to fry. Season with Knorr Aromat, then mix well.
Pour in the cream and stir. Sauté until it turns creamy but not watery.
Finish with black pepper, then set aside to cool.
Apply the seasoned spinach cold during the lasagna assembly in the next part.

Lasagna Assembly

35 minutes

Brush the bottom and sides of the lasagna pan or mold with soft butter.
Pour an ample amount of the white sauce, around 40 g, at the bottom of the pan. Cover with the pre-cooked lasagna sheet.
Again, add an ample amount of white sauce lasagna sauce. Top it off with spinach base (scatter or 2 clusters), mozzarella cheese, and crumbled cream cheese before covering it with the lasagna sheet.
Repeat this for another two layers. Make sure to pour enough of the white sauce so that the lasagna is moist and flavorful.
For the last step, which involves the top layer, spread the remaining white sauce lasagna sauce to cover the lasagna sheet.
Finish the top layer with the remaining spinach base, grated mozzarella, and cream cheese. Give the pan a tap for everything to set.
Cover with foil and cook it in a pre-heated convection oven at 170°C for 15 minutes.
When ready, remove the foil and add the parmesan cheese. Let it bake for another 15 minutes until it boils and shows a nice gratinated color on top.
Serve it while it's warm.