Steamed Fish with Tofu in Chilli Black Bean Sauce
Truly a classic Chinese masterpiece, this recipe may be served with the fish cut into pieces or as a whole. It's slathered with pungent black bean sauce that is garlicky and light, topped with pan-fried tofu for that added texture.
Main course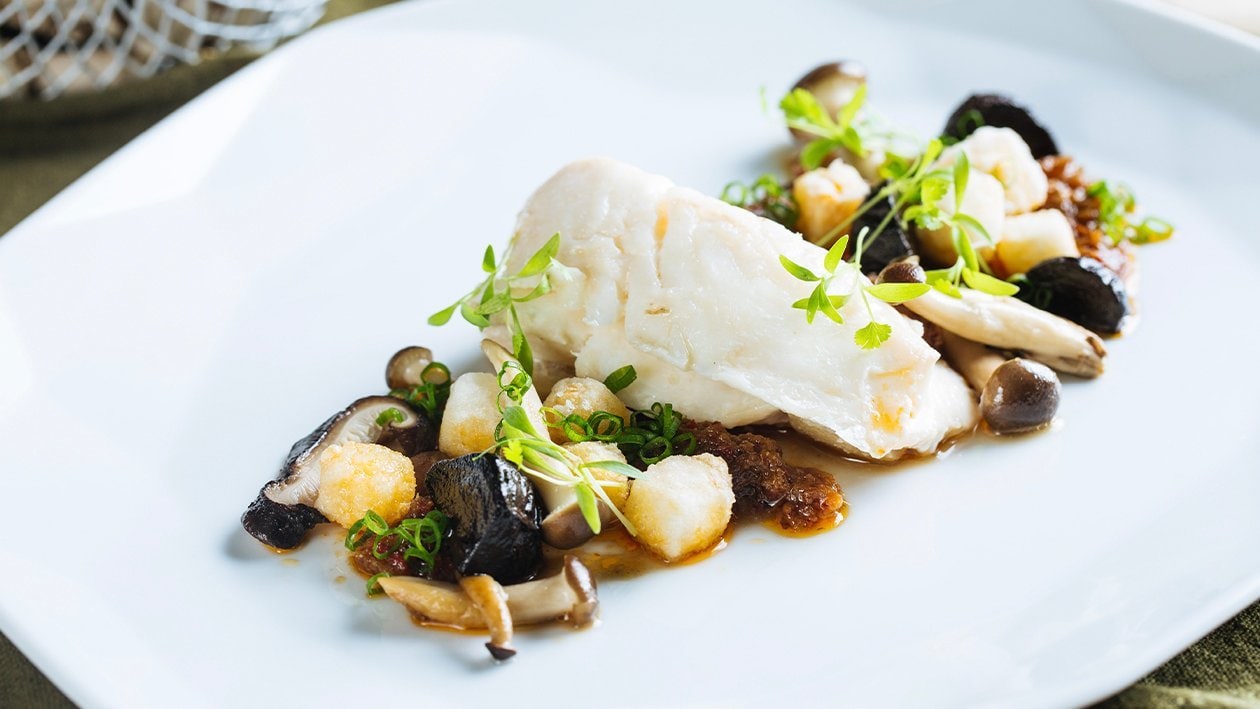 Ingredients
Fish Preparation
Honshimeiji Mushrooms

150.0 g

Ginger, sliced thinly

20.0 g
Sauce Preparation
Green Finger Chillies, finely sliced

2.0 pc

Black Beans, soaked in warm water

50.0 g

Red Bell Pepper, small diced

30.0 g

Green Bell Pepper, small diced

30.0 g

Cornstarch, diluted in half a cup of water

15.0 g
Tofu Preparation
Japanese (or Korean) Semi Soft Tofu

1.0 pack
Presentation
Preparation
Fish Preparation

Add the rice wine to the fish and it all over the fillet.
Season the fish with Knorr Chicken Powder and arrange the fillet on a serving plate that would fit the steamer and place the honshimeiji mushrooms, ginger slices and leeks on top of the fish. Cover the plate with cling film and steam. Cook the fish for approximately 8 minutes (depending on the thickness of the fish).
When the fish is done cooking, remove the excess liquid from the plate along with the ginger and leeks from the fish. Set aside.

Sauce Preparation

Dilute Knorr Chicken Powder in half a cup of water.
Heat the peanut oil in a wok. Saute the ginger, garlic and chillies.
Strain the black beans from the liquid. Add the black beans to the sauce along with the diced bell peppers, Knorr Oyster Flavoured Sauce, hot bean paste and Knorr Rock Sugar Honey Sauce. Add the slurry only if the sauce still needs to be thickened. Set aside.

Tofu Preparation

To make the fried tofu, pat the tofu with a paper towel to remove excess liquid. Lightly dust with cornstarch. Deep-fry until golden brown.

Presentation

Transfer the fish onto prepared plate and pour the sauce over the fish.
Arrange the tofu on the fish.
Garnish with fine julienne of green leeks.
Heat sesame oil using a small pan. While the oil is piping hot, gently drizzle over the leeks and fish. Serve immediately.