Vegetable Samosa
These addicting South Asian puff pastries can be made healthier with vegetarian ingredients! Masala, cumin, and coriander provide exotic spice to the dish while the potato flakes make them more substantial. Serve with raita or mango chutney!
Fruits & Vegetables
Main course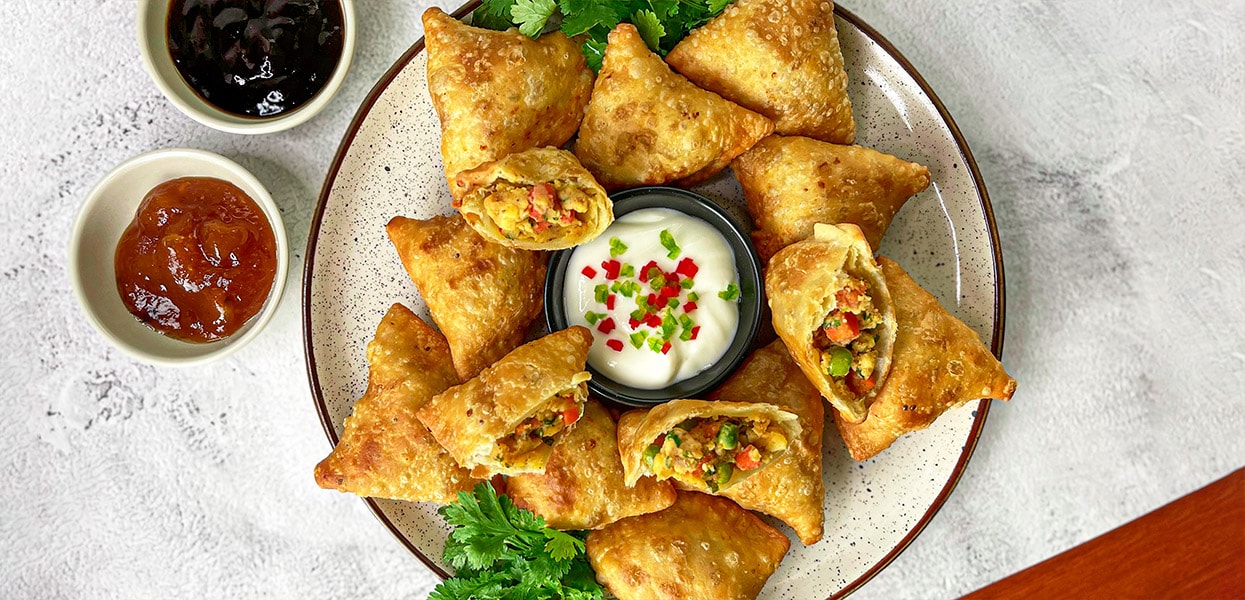 Ingredients
Vegetables
Green Finger Chili, seeded, chopped

10.0 g

Green peas, frozen, thawed

150.0 g

Carrots, small dice, blanched

100.0 g

garam masala, powder, MDH brand

10.0 g

Chili, powder, MDH brand

2.0 g
Knorr Potato Flakes
Frying and Assembly
300g Knorr Mashed Potato Prepared, See Recipe Below

Coriander Leaves, fresh, chopped

20.0 g
Preparation
Vegetables

10 minutes

In a pan, heat the oil and sauté the garlic and ginger.
Add the green chilis, then green peas and carrots.
Season w/ cumin, chili powder, Garam Masala and Knorr Aromat. Sauté until hot and fragrant.
Adjust seasoning Knorr Aromat if needed.

Knorr Potato Flakes

10 minutes

Pour water, fresh milk and Knorr Aromat in a pot.
Bring to a boil. Turn of heat and gradually add Knorr Potato Flakes.
When almost smooth and all the liquid is absorbed, add the butter and continue to fold until well incorporated.
Set aside to cool.
When cool enough, let the mixture pass through a stainless steel chicken wire strainer to create lumps on the mashed potato mixture.
Set aside until use for samosa mixture.

Frying and Assembly

50 minutes

In a bowl, combine the sautéed vegetables from earlier w/ all the remaining ingredients.
Mix well and toss inside the bowl.
Adjust with seasoning if needed.
Using a cookie cutter, cut the store bought or prepared puffed pastry into 3.5-4-inch size rounds.
Cut the rounds into half (giving a halfmoon shape). Then apply flour paste to seal the edge of the cone.
Add a spoonful (around 20-25g) of samosa filling inside the cone then seal again using the flour paste. Press to seal the edges using a fork.
Store in the freezer in an airtight container or plastic wrapper.
Deep fry in pre-heated oil at 175-180C. It will take around 5-6 minutes to cook.
Turn it occasionally to achieve that nice golden brown color. Serve w/ raita and mango chutney on the side.