Vegetable Spring Rolls
A recipe that hails all the way from Vietnam, this refreshing appetiser wrapped in rice paper comes in different versions, too. Although this recipe has seafood in it, cooks may also opt for an all-vegetable filling for their vegetarian diners.
Fruits & Vegetables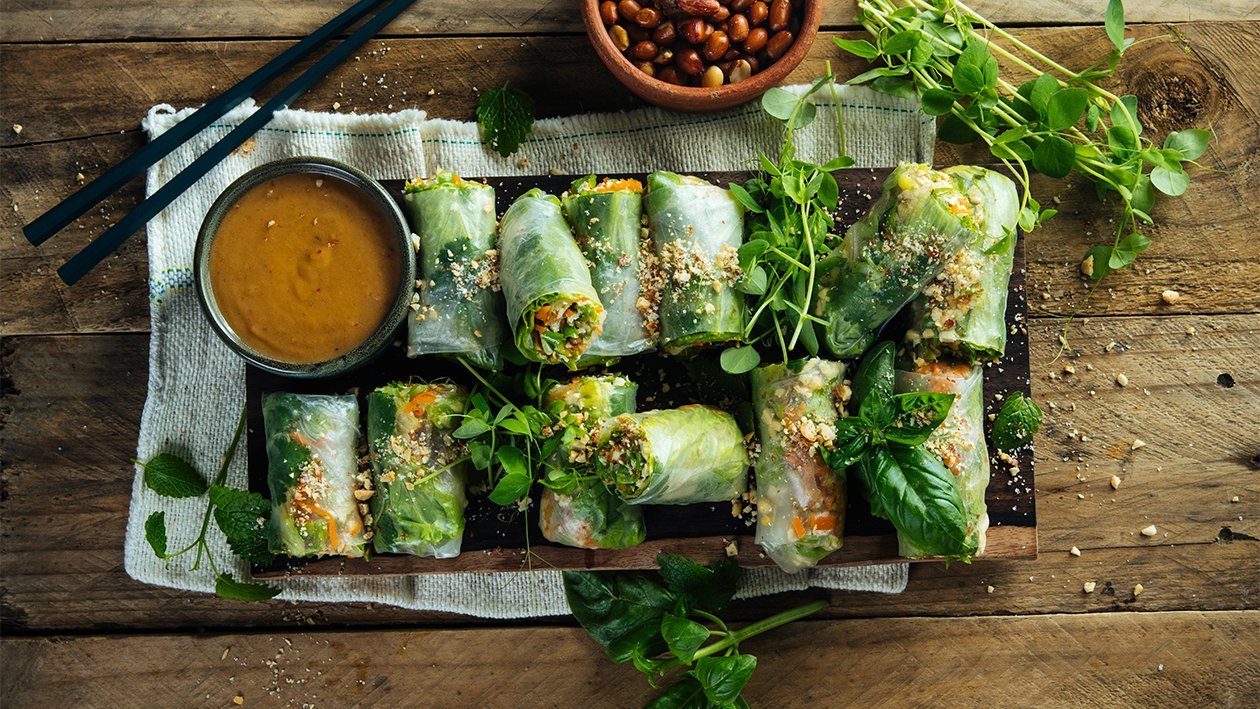 Ingredients
Filling Preparation
Baby Shrimp, peeled (optional)

80.0 g

Carrots, finely julienned

150.0 g

Green Beans, sliced thinly on the bias

150.0 g

Firm Tofu, grated

200.0 g

Green Cabbage, finely sliced

150.0 g
Peanut Sauce Preparation
Garlic Cloves, peeled

30.0 g
Presentation
Green Ice Lettuce Leaves, washed and spun dry

300.0 g

Garlic, minced (optional)

100.0 g

Ground Peanut Sugar

200.0 g
Preparation
Filling Preparation

Heat oil in a wok. Stir-fry the onion and garlic until fragrant.
Season shrimps with Knorr Chicken Powder and black pepper. Add to pan and stir-fry for 1 minute.
Add in carrots, green beans and tofu. Stir fry for 2 minutes. Taste and adjust seasoning with Knorr Chicken Powder.
Add the shredded cabbage.
Transfer to a strainer to remove excess liquid from the mixture.
Keep warm until ready to assemble.

Peanut Sauce Preparation

Place all the ingredients in a food processor. Puree until smooth.
Heat the mixture before serving. Add water if a thinner consistency is desired.
Taste and adjust seasoning.

Presentation

Fill a spray bottle with filtered water. Lightly spray a rice paper with water. Place the wrapper on a chopping board or any sanitised surface.
Line one side of the rice paper with one whole lettuce leaf.
Place about 2 tablespoons of vegetable filling on top of the lettuce.
Top with minced garlic (optional).
Sprinkle with ground peanut sugar and finish with a sprig of coriander leaves.
Roll the rice paper, tucking the sides.
Cover the finished rolls with a damp clean towel to prevent it from drying up.
Once all rolls are done, slice each roll into two 1.5 inch segments (similar to sushi).
Arrange on a serving plate and sprinkle with additional peanut sugar.
Serve with warm peanut sauce.