How would you react when a regular customer exclaims, "Your salmon fillet is well-seasoned and perfectly pan-seared today!" Seems like music to your ears? It does sound like a compliment, but if you dissect the comment further, you'd realize a problem. Your patron is comparing their meal "today" with a previous subpar experience. And it points to your restaurant's lack of standardized recipes. 
So, are you offering your guests an inconsistent dining experience? Eventually, they'll question your kitchen's capability, visit less frequently, and spread the word about their disappointing meal. To avoid these repercussions, you want to standardize the dishes on your menu immediately. Read on to find out how.
What Is a Standardized Recipe?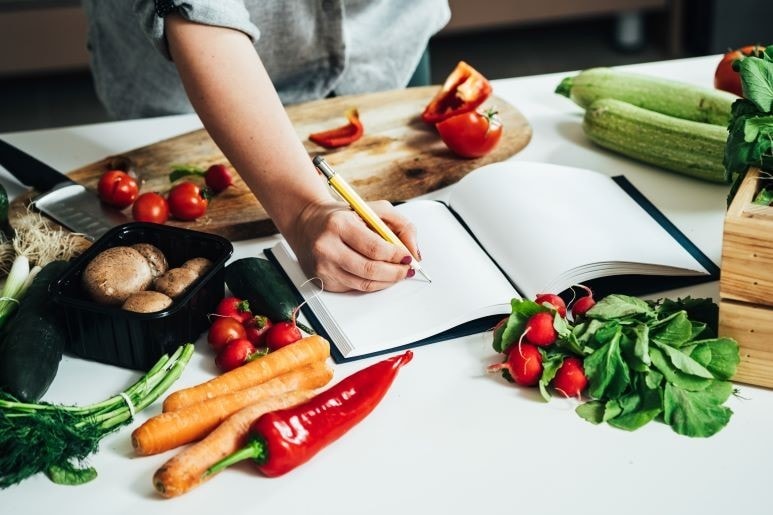 A standardized recipe is a tried-and-tested set of instructions that F&B establishments follow to prepare a menu item uniformly and consistently. It identifies the ingredients, procedures, techniques, and equipment required to meet quality and yield expectations.
Standardizing a recipe involves extensive research and development. Even before adding a dish to your menu, you'll need to cook it repeatedly until you get the same results every time. 
The advantages of a standardized recipe
Having standardized recipes offers the following benefits to any food business: 
Ensures consistent quality and quantity of menu items. 
Acts as a basis for food costing, sourcing, and procurement.
Aids the back-of-house staff in training new employees.
Helps the front-of-house team market and upsell restaurant offerings.
Informs consumers about dietary implications and allergens.
Reduces waste and manages inventory to prevent supply shortages.
Guarantees customer satisfaction.
Aids in portion control.
Guarantees business profitability.
Essential parts of a standardized recipe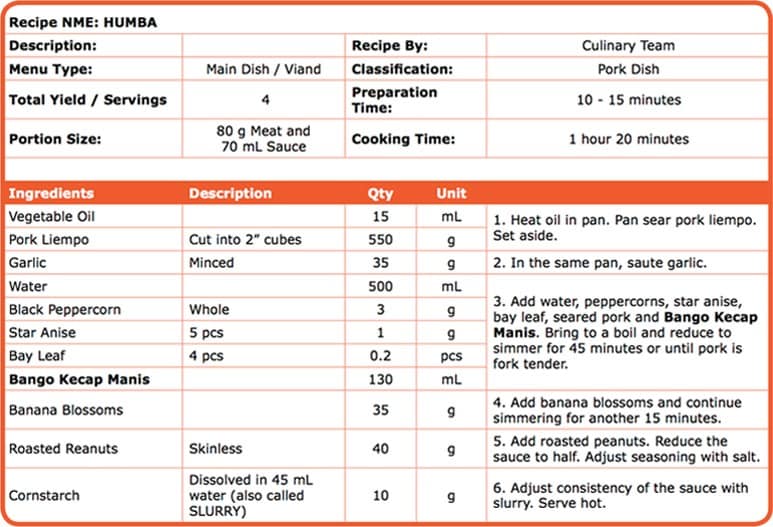 Every standardized recipe should contain the following:
Recipe name, including how it will come out on your menu (example: Bunny Surprise for your signature carrot cake)
Short description of the dish
Name of recipe creator
Menu type (appetizer, main dish/viand, dessert, beverage, etc.) 
Classification (pork, seafood, rice, cake, etc.) 
Yield (weight, volume, count)
Portion size
Preparation and cooking time in minutes
Required equipment (measuring tools, pan sizes, mixer attachments, etc.)
Ingredients with exact quantity (listed in order of use)
Clear, brief, and precise cooking procedures 
Cooling and storing instructions 
Reheating directions
Plating, portioning, garnishing, and serving instructions
Substitution notes, including ingredient alternatives and quantities
Food photos for portion and presentation reference
Computing Ingredient Costs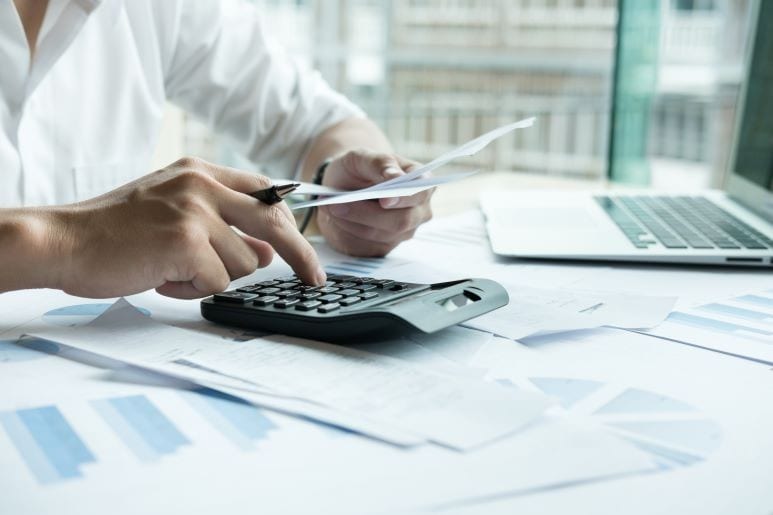 Standardizing a recipe also involves computing your costs. For this, you'll need a standard recipe cost sheet to track individual ingredient prices and sum them up to determine your expenses per dish. Ultimately, these efforts will help you price your menu items effectively. 
How to measure ingredients
You want to be as specific as possible when identifying how much of an ingredient you use in a recipe. You can measure this amount by determining any of the following: 
Weight: How heavy is an ingredient, measured in grams or kilograms? For example, a roast beef recipe requires 3 grams of Knorr Aromat All Purpose Seasoning Powder.
Volume: How much physical space does an ingredient take up, measured in cups, teaspoons, liters, or pints? The same beef recipe measures liquids like Worchester sauce, heavy cream, and Knorr Liquid Seasoning in milliliters.
Count: How many units or pieces of an ingredient does the recipe require? Only use this unit of measurement for items that do not affect the taste of the dish. For example, a summer veggie taco recipe calls for 10 pieces of flour tortillas.
To compute the cost of an ingredient, you'll need to multiply the required quantity by its unit price. For example: 
Retail price: 1 kg Knorr Aromat All Purprose Seasoning Powder = ₱430.65
Unit price: 1 g Knorr Aromat All Purprose Seasoning Powder = ₱0.43
Ingredient cost: 3 g Knorr Aromat All Purprose Seasoning Powde x ₱0.43 = ₱1.29
Measurement conversions
Recipe creators should also adapt to a kitchen's use of metric or imperial measurement systems. In such cases, you'll need to convert some quantities to keep everything uniform. Instead of relying on mental computations, add simplified conversion charts at the bottom of your recipe. Some examples:
1 liter = 1,000 milliliters = 2.11 pints 
1 kg = 1,000 grams = 2.2 pounds = 4 cups 
Chinese measurements
If you're operating a Chinese food business, you might encounter recipes that use traditional units of measurement. Make sure you convert these into your kitchen's standard. Here are some examples: 
| | |
| --- | --- |
| Traditional Chinese Measurement  | Imperial System |
| 1 liang | 0.38 grams |
| 8 liang | 300 grams |
| 1 kati | 600 grams |
The Basics of Scaling Recipes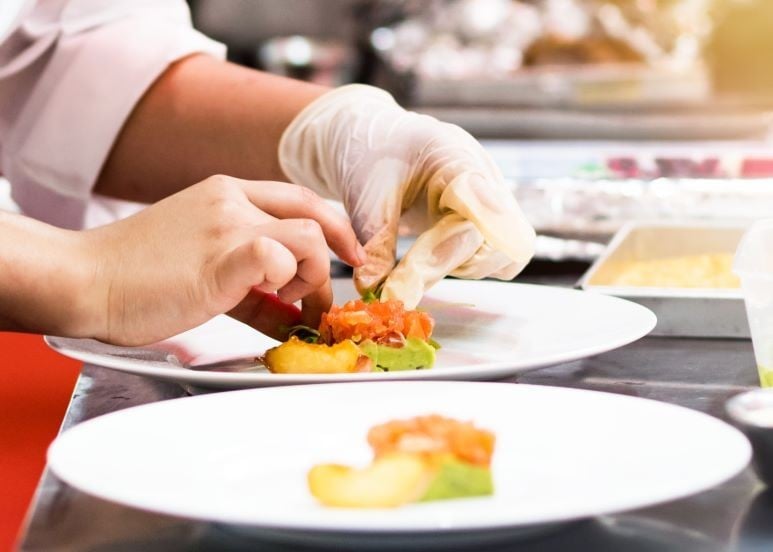 Scaling involves adjusting ingredient quantities to accommodate a different number of servings compared to the standardized recipe. This allows you to increase or decrease portions while maintaining a dish's quality. 
The task is crucial because the number of servings a kitchen prepares depends on forecasted needs. When you correctly scale a recipe, you safeguard your business against profit loss, wasteful overproduction, or embarrassing underproduction.
How to scale a recipe
Start by identifying an ingredient's conversion factor (CF). You can calculate this in advance and include it in your recipe. To get the CF, you need to divide the desired yield by the original yield. 
desired yield ÷ original yield = CF
Let's say you want to scale up the serving size of a roasted squash soup recipe from 4 to 25. This is how you get the CF: 
Scaling up and down
To scale up or down, you just need to multiply all ingredients in the standard recipe by the CF. 
If the original squash soup recipe calls for 2 cups milk, you can scale up following the formula: 
2 cups x 6.25 (CF) = 12.5 cups
So, you need 12.5 cups of milk to prepare 25 servings of the soup.
If you want to scale down the same recipe for only two guests, you follow the same formula: 
2 ÷ 4 = 0.5 (CF)
2 cups x 0.5 = 1 cup 
You only need 1 cup of milk for two portions of the squash soup. 
When using conversion factors, you may encounter fractions that don't translate well to certain ingredients, like 6.25 eggs. Feel free to round up or down in such cases; this won't impact the recipe.
Standardizing and scaling recipes require time and effort, but they're worthwhile tasks to keep your diners happy and your profitability secure. Don't let inconsistency tarnish your name! With standardized recipes, you can guarantee the same flavors every time a customer returns. Expect endless (and consistent!) compliments from now on.