Running a profitable business requires developing impactful strategies for structuring everyday operations. Are you noticing confusion within your team when preparing the dining hall or that some post-service tasks have no action owners? It's high time you used restaurant checklists to introduce more organization to your food establishment.
Lists are essential in tracking completed activities and identifying additional jobs employees can accomplish during slower shifts. Need help getting started? Learn how to make comprehensive to-do lists with this guide.
What to Include in a Daily Restaurant Checklist?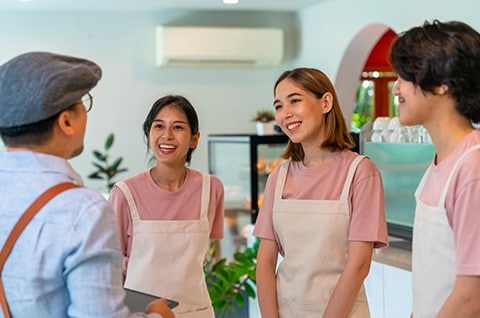 A restaurant checklist is a valuable tool to ensure the completion of essential tasks before, during, and after operations. The list should include the following:

Name of restaurant
Date 
Time of completion
Restaurant shift (opening or closing) 
Name of assigned checker
Task list
Action owner
Remarks
Benefits of a restaurant operations checklist
Using detailed restaurant checklists for day-to-day operations can help:
Improve staff accountability.
Prevent accidents.
Meet food safety standards.
Avoid wastage and save resources.
Part I: Restaurant Daily Opening Checklist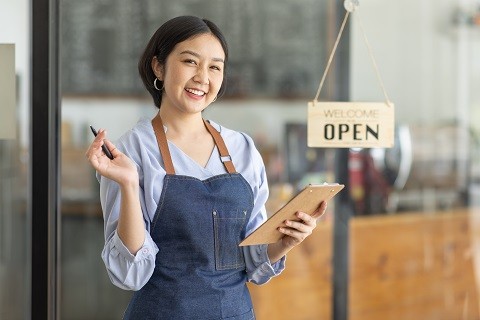 Do you want to start the day on a positive note? Opening checklists encourages efficient workflow, boosts employee morale, and streamlines operations that will help boost customer satisfaction.
FOH opening
The front of house (FOH) includes the dining hall, restrooms, bar, and POS stations. Because these zones are customer-facing, getting them ready before diners walk in is crucial. Here are some FOH tasks to include in your restaurant daily opening checklist.
1. General duties
Your staff must accomplish the following at the start of each workday:
Switch on the lights and unlock the front door.
Inspect restrooms and restock toilet paper, hand soap, etc. (Optionally, you can prepare a separate restaurant bathroom checklist.)
Set up the host stand and add menus, reservation books, notepads, etc.
Ensure supplies are adequate – enough plates, silverware, glasses, and napkins.
Check and fill condiments, like ketchup bottles, chili sauce containers, and salt and pepper shakers. 
Conduct a pre-shift meeting to go over reminders and discuss special menu items the kitchen prepared.
2. Safety and security
Your checklist should also include restaurant security procedures and safety protocols to protect your staff and customers. Add these to your list:
Verify all emergency exits are unlocked and easily accessible.
Ensure fire extinguishers and first aid kits are available and fully stocked.
Inspect all door locks and security systems, including CCTV cameras. 
Check for equipment issues like flickering bulbs, malfunctioning sound system, or POS system errors.
Confirm that signages are visible and working properly.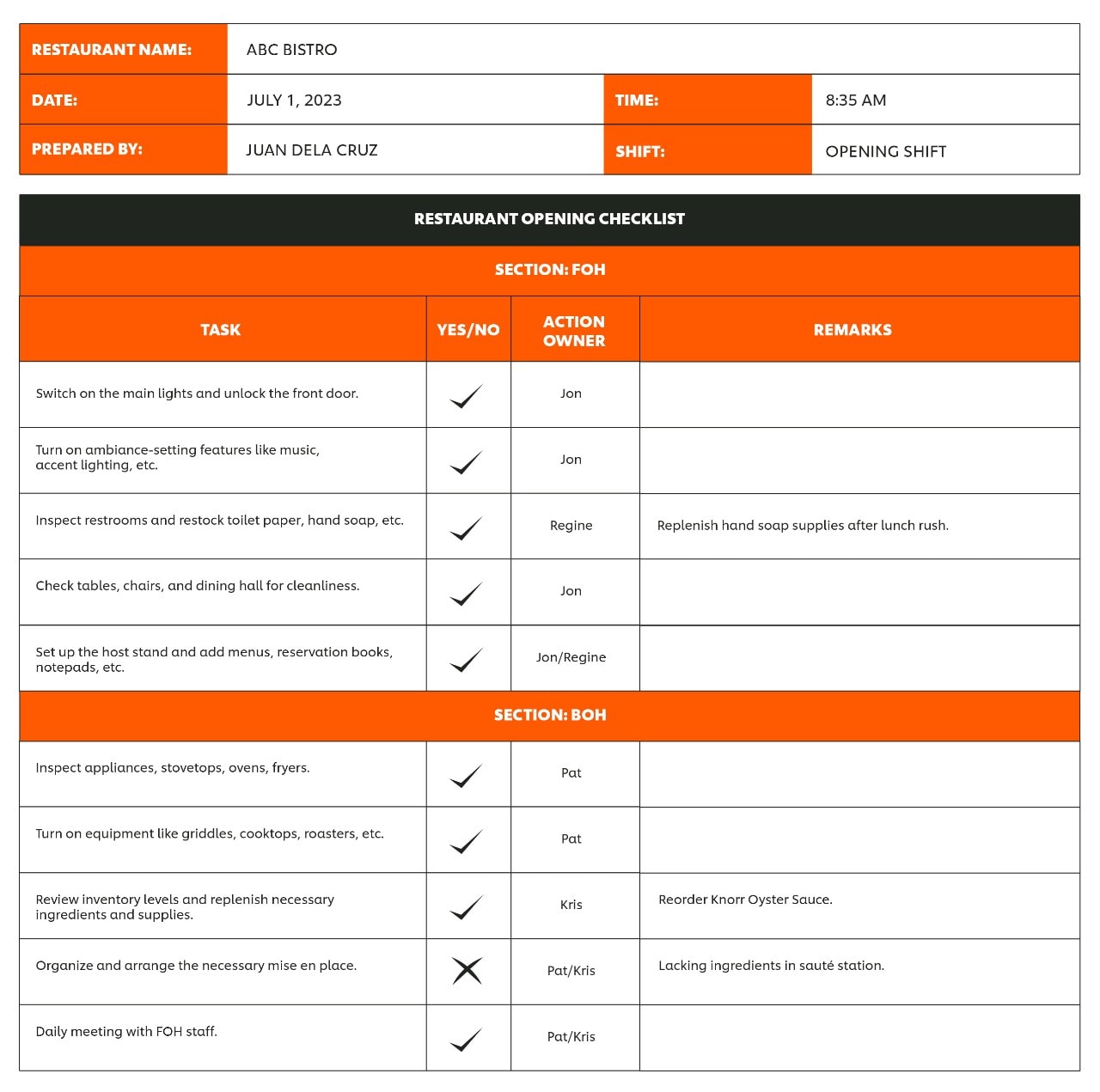 BOH opening
Don't leave your BOH behind! The back of house refers to all behind-the-scenes areas, like the kitchen, break rooms, and office. For optimal operations, you also want everything here up and running before your guests arrive.
1. General duties
Include the following opening tasks when putting together a restaurant checklist for your restaurant's BOH:
Inspect all appliances thoroughly (stovetops, ovens, and fryers). Ensure cooking tools are clean and functioning correctly.
Preheat equipment and machines, like griddles, cooktops, roasters, etc. 
Review inventory and replenish necessary ingredients and supplies, such as proteins, vegetables, and cooking oil. Practice the FIFO method when restocking goods.
Check the best-by date of all shelf-stable products, including seasoning (Knorr Liquid Seasoning), flavorings (Sinigang sa Sampalok Mix) and recipe bases (Knorr Chicken Broth Base).
Do the mise en place for each kitchen station. 
2. Safety and sanitation
To run a successful BOH, your kitchen must operate smoothly. Manage hazards and risks by also incorporating these items into your checklist:
Check the cleanliness and sanitation of all kitchen areas, including floors, walls, and surfaces. 
Confirm the organization and cleanliness of food storage areas.
Verify the availability and condition of essential safety equipment, such as fire extinguishers and first aid kits. 
Ensure all staff members wear appropriate clothing like gloves, hairnets, uniforms, and aprons.
Monitor and check equipment temperatures (refrigerator, freezer, food storage, etc.) to ensure they are within safe ranges.
Part II: Daily Closing Checklist for Restaurants
Before the business closes for the day, your staff must complete restaurant closing procedures. Help them breeze through the tasks after a tiring shift by organizing chores in a list. The goal is to get as much done as possible to make opening the next morning less stressful.
FOH closing
Your guests may have left, but the tasks aren't over just yet. You still need to mop the floors, refresh centerpieces, and rearrange menus. Here's what you should include in your closing checklist.
1. General closing duties
There's never an excuse for leaving the FOH in disarray. Add these to your closing roster: 
Clear tables and consolidate any remaining food and beverages for proper waste management. 
Refill all condiment containers and empty salt and pepper shakers. 
Clean and sanitize FOH floor area and surfaces (chairs, tables, and counters).
Conduct a thorough check of the FOH supplies, restocking items like pens, notepads, and menus as needed.
Tidy up and refresh the restrooms completely.
Attend to any necessary servicing duties by following a comprehensive restaurant maintenance checklist. Fix leaky plumbing, replace light bulbs, or resolve issues with unstable furniture.
2. Cash and reporting
Daily sales reports can help check if the menu is bringing in revenue or if you're already experiencing losses. Assign your cashier and your FOH manager to also complete the following tasks: 
Tally sales and process end-of-day transactions in the POS system.
Reconcile receipts for cash and credit cards against sales totals.
Balance receipts against the POS system total.
Prepare corresponding reports (sales and inventory).
3. Safety and security tasks
Assign someone to check on the following before the team heads out:  
Establish that all doors and windows are locked and secured.
Ensure all gadgets and equipment are switched off. 
Shut off all lights and ambiance setting features in the FOH area.
Verify surfaces are dry to avoid injuries.
BOH closing duties
Nope, no one gets a free pass after service! Your BOH team also needs to put their area in order before clocking out. The following tasks should make it to your list.
1. General closing duties
Cleaning is integral to closing shop for the night, but there's more to do than just wiping down surfaces. Make sure your BOH staff accomplishes these:
Clean and sanitize appliances and surfaces, including cutting boards, prep tables, and cooking utensils. 
Power down all equipment, such as ovens, grills, fryers, and stovetops.
Gather and store all remaining food and ingredients in a centralized location. 
Verify that all kitchen tools and utensils are stored properly. 
2. Inventory and stocking activities
Your day-to-day operations shouldn't end without checking your supplies. Follow these best practices for tracking stocks after a shift:
Label leftover food and ingredients appropriately. Ensure all supplies are stored properly.
Conduct a comprehensive inventory of all remaining food and ingredients.
Replenish essential items (meats, vegetables, and spices) to ensure availability for the next shift. 
Sanitize and clean refrigerators, freezers, and dry storage.
3. Safety and security management
Keep the alarms from going off by adding these safety-related tasks to your closing list: 
Verify that all kitchen equipment and machines have been properly powered off.
Certify cleaning supplies, chemicals, and tools are stored safely.
Ensure all doors and windows are locked and secured.
Double-check that all security systems are armed and functioning correctly.
Want to keep your business on the right track? Streamline your restaurant operations by using daily restaurant checklists for maximum efficiency. They'll help you refine your internal processes, maintain organization, and ensure your staff don't overlook or duplicate tasks. Wins for all!