Beef Shortribs of Sinigang
This Filipino dish is a crowd favorite because of its tangy tamarind base. Sinigang goes well with a variety protein like seafood, pork, and beef -- which makes it easy for Chefs to experiment with their menus!
Fruits & Vegetables
Main course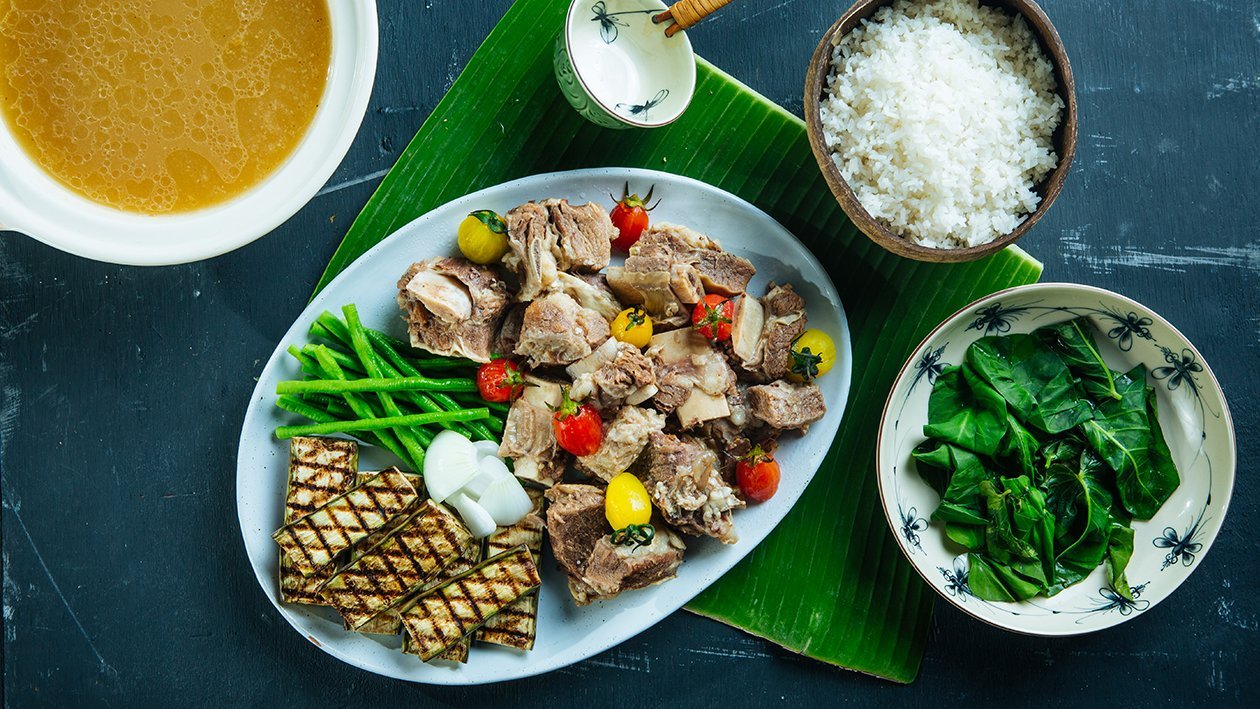 Ingredients
Beef Preparation
White Onions, peeled and sliced into quarters

100.0 g

Garlic Cloves, peeled and crushed

30.0 g

Tomatoes, sliced into quarters

100.0 g

White radish, peeled and cut into large dice

80.0 g

Beef short ribs, cut into 2 inch segments

1.0 kg

Green Finger Chili

2.0 pc
Eggplant Preparation
Preparation
Beef Preparation

In a heavy bottom sauce pan, heat the oil and saute onions and garlic until fragrant.
Add the tomatoes and the white radish.
Add the beef. Season with fish sauce. Stir until the beef turns brown.
Add the water and the Knorr Beef Broth. Let it bring to a boil, then turn it down to simmer. Skim the scum. Simmer for 3 hours or until the beef becomes tender.
When beef is already tender, add the finger chilies and Knorr Sinigang Sa Sampalok Mix. Taste and adjust seasoning with fish sauce.
Add the string beans.
Turn off the heat, then add the kangkong leaves.

Eggplant Preparation

Heat a separate grill pan. Drizzle the eggplant with oil and season with salt and pepper.
Grill the eggplant. When done, set aside in a tray covered with foil until ready to use.

Presentation

Strain the ingredients from the broth. Arrange the beef and vegetables including the grilled eggplant on a serving platter.
Soup to be served separately.