Crispy Salted Egg Oyster and Enoki Mushrooms
The crunch from oyster and enoki mushrooms combined with the creaminess of Knorr Salted Egg Powder makes this a potential go-to snack for your customers!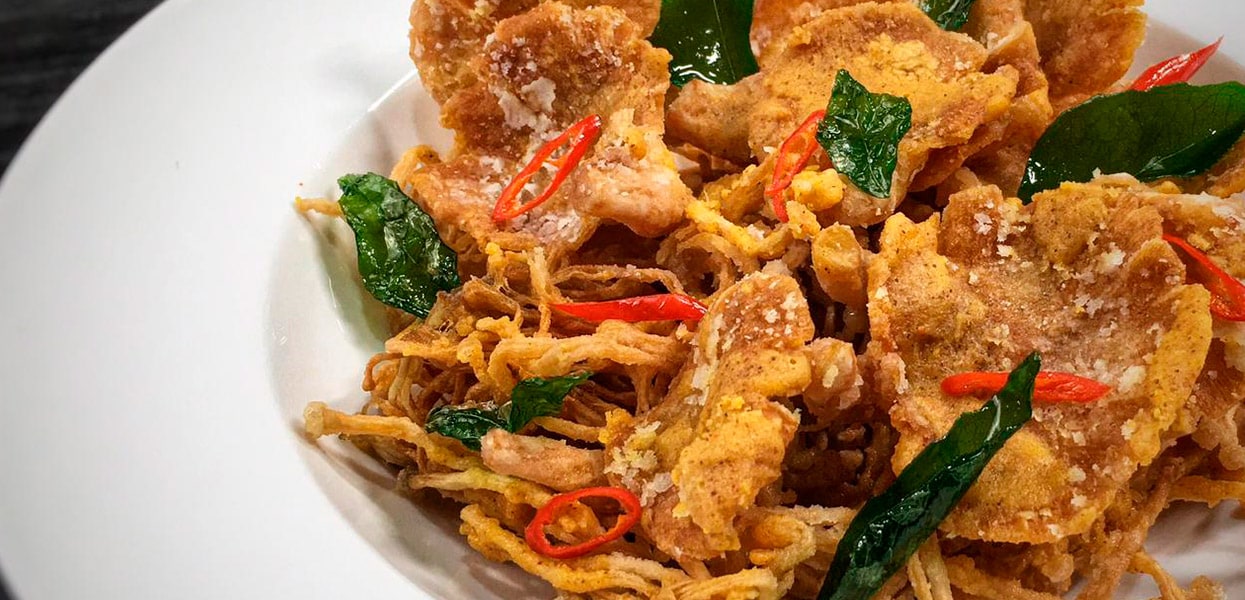 Ingredients
Fried Oyster and Enoki Mushrooms
Oyster and Enoki Mushrooms

350.0 g
Salted Egg Sauce
Preparation
Fried Oyster and Enoki Mushrooms

10 minutes

Combine all purpose flour, cornstarch, and potato starch. Mix well.
Place all the mushrooms and flour mixture in a bowl.
Toss and shake well until all the mushrooms are dry coated.
Deep fry until crisp. Set aside and spread in a wire rack to cool.

Salted Egg Sauce

3 minutes

In medium heat, melt margarine in the pan. Add curry leaves and saute until fragrant.
Add Knorr Salted Egg Powder and mix well w/ a rubber spatula. Do this until all is smooth (no lumps) in the mixture. You may also do this w/ no heat (as long as the margarine is hot and melted) to avoid burning.
Add Knorr Chicken Powder, white sugar, and cayenne pepper. Continue to mix until well dissolved.

Assembly

5 minutes

Add immidiately to the rested fried oyster and enoki mushrooms by using a spoon and drizzle an ample amount over it. You dont have to cover everything w/ salted egg sauce. Just a drizzle on each side of the fried mushroom will do. You may turn the fried mushroom on the other side and repeat the drizzle of the salted egg sauce.
Let it air dry or until the drizzled sauce dries up.