Dirty Fries
Munch on the cheesy goodness of an all-time favorite snack! Entice your diners to the guilty pleasure of the taste of tender, mouthwatering beef and melted cheese on top of freshly cut potato fries.
Fruits & Vegetables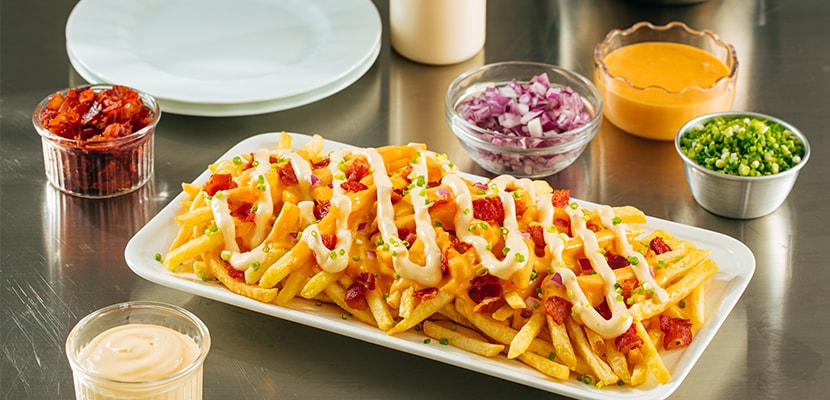 Ingredients
Beef Preparation
White Onions, finely chopped

200.0 g
Dirty Fries Assembly
French fries, frozen(Store Bought)

1000.0 g

Spring Onions, finely sliced

25.0 g

Red Bell Pepper , finely sliced

60.0 g

Green bell pepper, finely sliced

60.0 g

Cheddar Cheese, grated

200.0 g

Red Onions , finely diced

150.0 g
Preparation
Beef Preparation

30 minutes

Prepare the beef by heating up the pan and adding a little oil.
Add the beef and saute for 3 minutes, set aside.
In the same pan, add a little oil and add the garlic, and saute for 1 minute.
Add the onions and saute for another 2 minutes. Add the beef back to the pan.
Add the tomato paste and saute for 3 minutes over moderate heat, and stir in Knorr Liquid Seasoning.
Add a little water and season with salt and pepper.
Cook for 5 minutes, and set aside for assembly with the fries.

Dirty Fries Assembly

10 minutes

Deep fry the fries in 180*C oil.
Cook until golden and crispy - about 8 minutes.
Divide into 100g portions.
Serve topped with drizzle of Best Foods Mayo Magic, Diced vegetables, prepared ground meat, and cheese.