Fire Chicken with Torched Cheese
Secret's out! The trick to a good fried chicken is its coating. Chefs can make it more interesting by adding a hot but sugary sauce topped with grated mozzarella.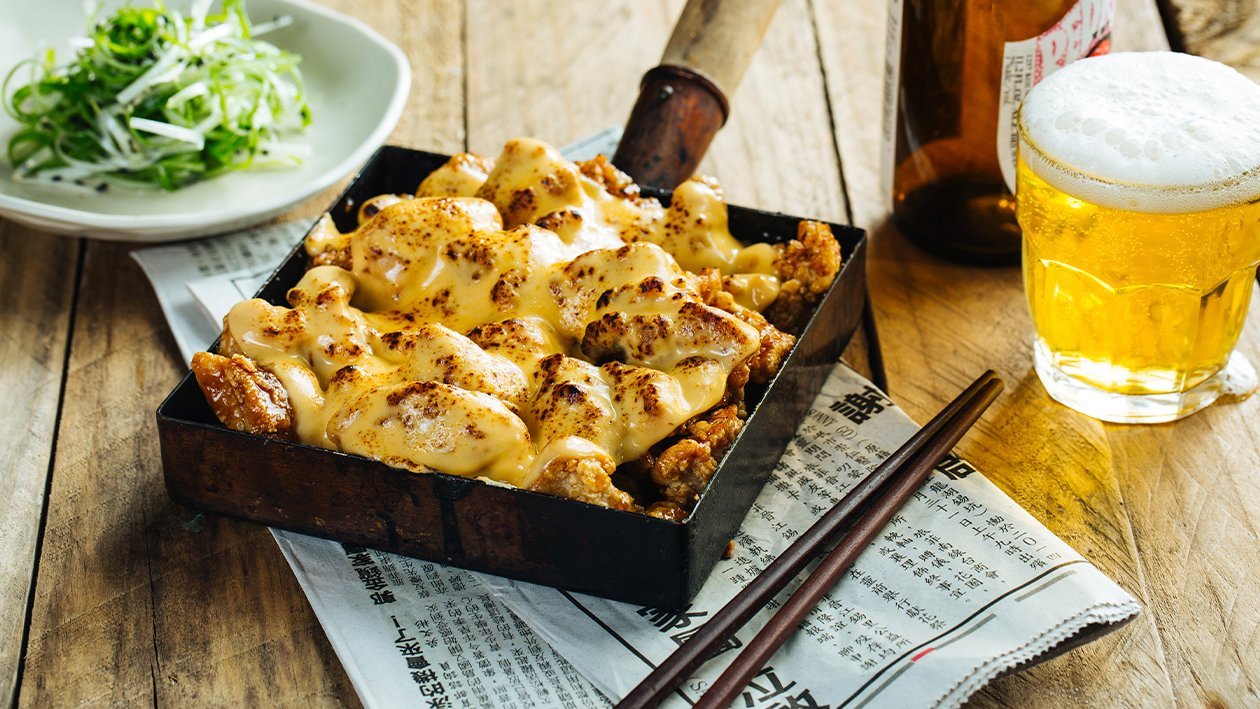 Ingredients
Sauce Preparation
Black Pepper, crushed

1 g

Korean Red Pepper Flakes

1 g

Korean Red Pepper Paste

30 ml
Chicken Preparation
Chicken Thigh Fillet

300 g
Presentation
Preparation
Sauce Preparation

In a dry pan, heat to toast the crushed black peppercorns.
Add the red pepper flakes, Knorr Rock Sugar Honey Sauce and red pepper paste. Whisk to combine the sauce. Add water to thin out the sauce. (Pepper flakes and paste can be reduced to make a less spicier sauce.)
Taste and adjust seasoning.
Set aside until ready to use.

Chicken Preparation

Heat oil to 350F.
Add the rice wine to the chicken that are cut into 1-inch cutlets and season evenly with Knorr Rostip Chicken Seasoning Powder.
Add the egg whites to the chicken. Mix thoroughly to evenly coat the chicken.
Place the rice on a tray. Lightly coat each chicken with the rice flour.
Deep-fry the chicken until golden brown and cooked through. Place the cooked chicken on paper towels to absorb excess oil.
Reheat the sauce in a wok, add the chicken to the sauce. Toss to coat the chicken.
Transfer the chicken onto a heat-proof serving container.

Presentation

Sprinkle the grated cheese on top of chicken.
Using a torch, salamander or oven, gratinee the cheese until all has melted.
Serve immediately.