Pancit Itim
A fun twist on the traditional pancit!
Main course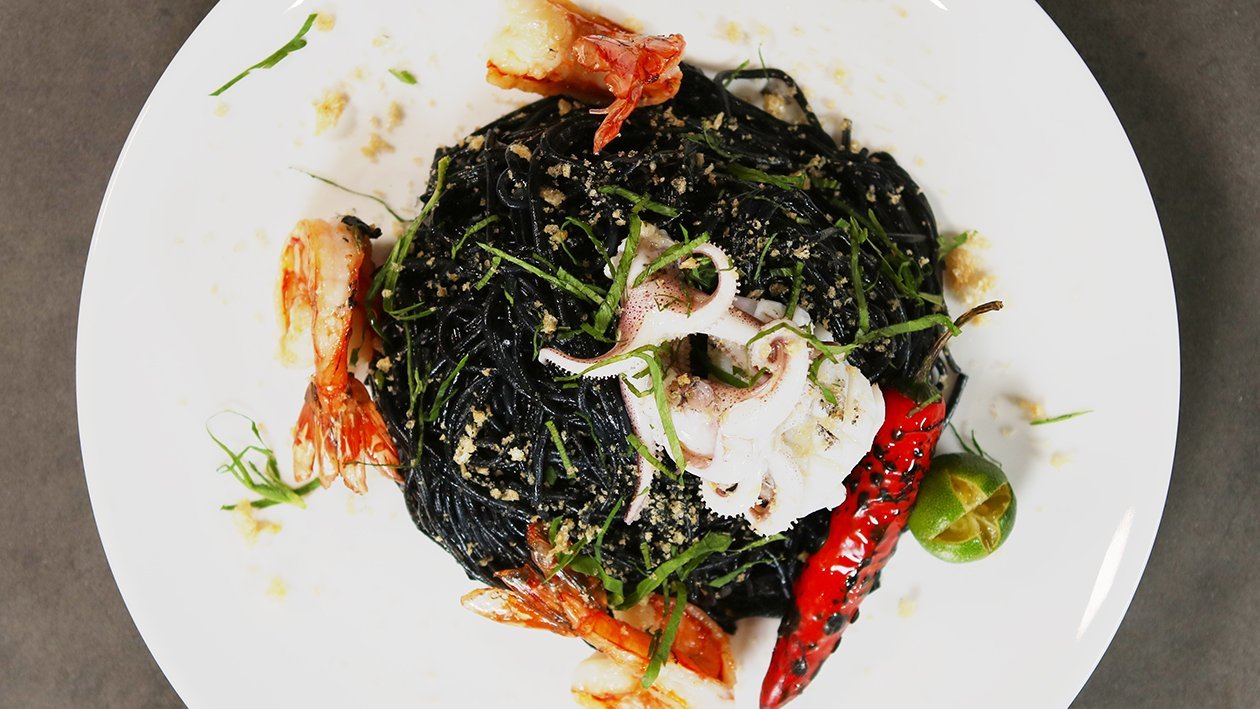 Ingredients
Pancit Itim
White Onions, finely sliced

80.0 g

Ginger, finely minced

30.0 g

Tomatoes, seeded and finely sliced

80.0 g

Squid Heads and Tentacles, seasoned

Black Pepper, crushed

10.0 g

Vermicelli Noodles

250.0 g
Garnish
Chicharon, crushed

30.0 g

Celery Leaves, chiffonaded

10.0 g

Calamansi, sliced in half

2.0 pc
Preparation
Pancit Itim

Separate the tentacles from the body. Slice the body into half inch segments. Make crosshatch incisions on the top side of the meat.
In a medium sized wok, heat oil.
Sweat the onions, garlic, ginger and tomatoes until fragrant.
Add the squid head and tentacles. When the squid has turned color, add the water. Season the liquid with Knorr Chicken Powder and black pepper. Bring to a boil. Add the black squid ink. Taste and adjust seasoning.
Add the vermicelli noodles. Stir from time to time to make sure that the noodles are well incorporated with the broth.

Garnish

To prepare the garnish, heat a separate pan over high heat.
Add the oil. Add the seasoned squid then the garlic. This is so as not to burn the garlic. When the squid has turned color, set aside. Do not overcook the squid.
Transfer the noodles onto a serving plate. Arrange the sautéed squid on top and the grilled chili on top.
Sprinkle with crushed chicharon and chiffonade of celery leaves. Best served with calamansi as a condiment.