Plant-based Butter Chicken
We got a hot favorite plant-based dish for your diners' Indian spice cravings! Serve this flavor-bursting using The Vegetarian Butcher NOChicken Burger simmered in spiced, creamy and velvety butter tomato sauce.
Plant-based Meat
Main course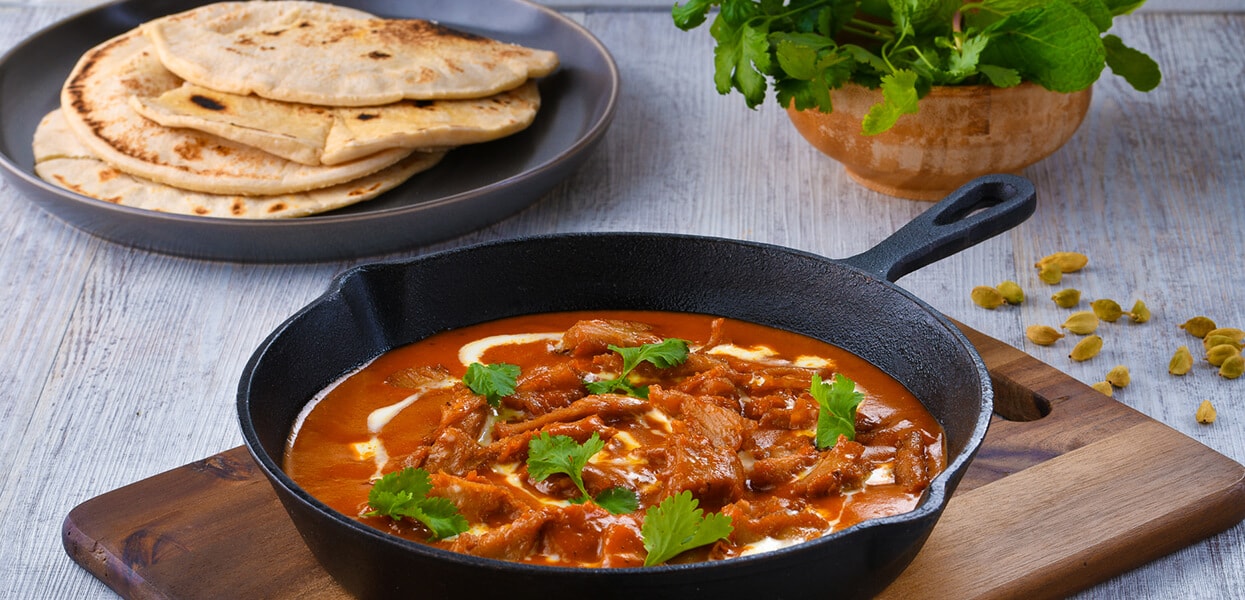 Ingredients
Base Broth
Tomatoes, canned chunks

500.0 g

Green Cardamom, pods, 3 pcs

100.0 dg
Butter Sauce
White Onions, chopped

30.0 g

Coriander, wansoy, stems only

3.0 g

All Purpose Cream

250.0 ml
Cooking / Assembly
Preparation
Base Broth

20 minutes

Combine everything in a pot.
Mix well and bring to a boil then simmer for 15-20 min.
Remove the pods then blend using a hand mixer or blender.
Set aside.

Butter Sauce

10 minutes

In another pot, heat oil and saute onions, ginger and garlic.
Add now the garam masala and chili powder.
Once all the flavor is pungent, add the base broth from earlier and stems or coriander. Continue to mix then bring to a boil and simmer for 10-15 min.
Add now the cream and honey. mix well, remove the stems. finish the sauce w/ butter. Set aside until use.  

Cooking / Assembly

10 minutes

Mix the Fried The Vegetarian Butcher NoChicken Chunks w/ the prepared sauce.
Bring to a boil and simmer for 5-10 min.
Garnish w/ some chopped coriander before serving.