Pork Steak Tapsilog
Looking for a twist on the classic Filipino Beef Tapsilog? Try serving this sweet and tangy pork steak with your usual fried rice and fried egg!
Main course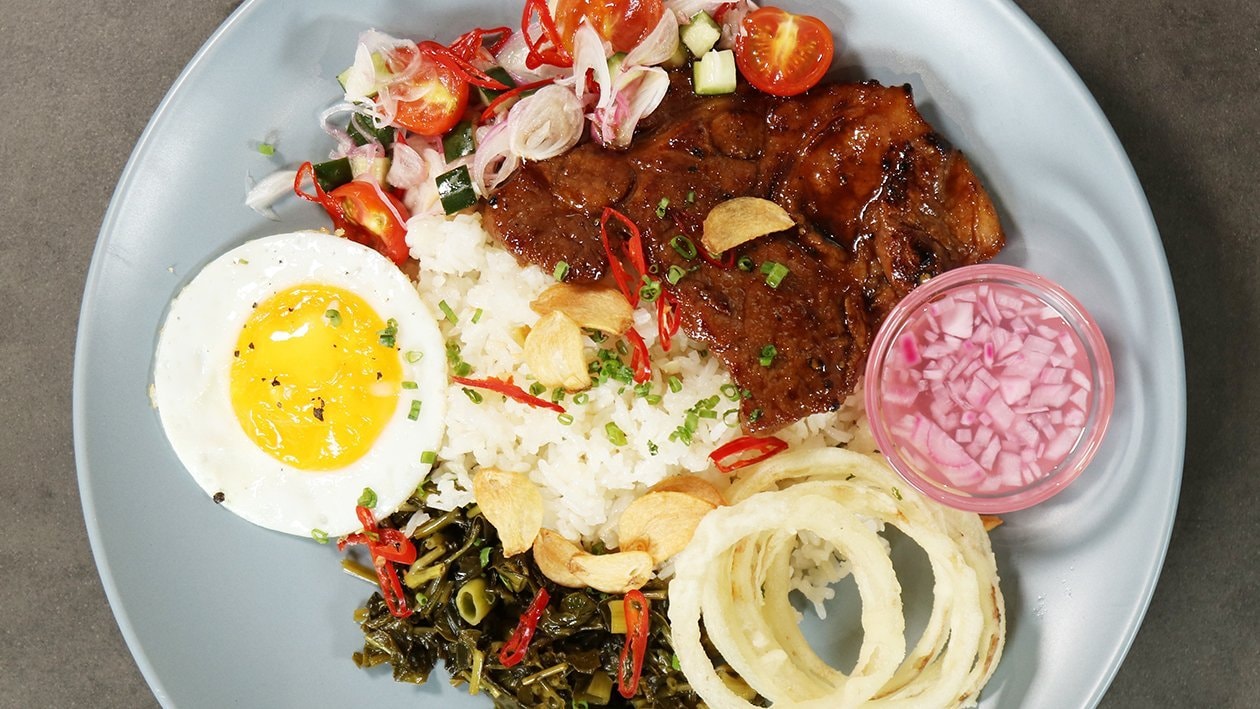 Ingredients
Pork Steak Tapa
Pork Steak, cut 1/3 inches thick

1.0 kg

Black Pepper, crushed

10.0 g

Fresh Calamansi Juice

100.0 ml
Ensaladang Kangkong
Distilled White Vinegar

150.0 ml

Kangkong Leaves (including tender parts of the stem), sliced into 1/2 inch segments, blanched

150.0 g

Cucumber, seeded and cut into medium dice

100.0 g

Cherry Tomatoes, sliced in half

100.0 g

Shallots, peeled and thinly sliced

30.0 g

Red Finger Chilies, thinly and diagonally sliced (optional)

5.0 g
Fried Onion Rings
White Onions, peeled and thinly sliced

200.0 g

Cooking Oil (For Deep Frying)
To Assemble
Seasoned Garlic Rice

6.0 cup
Preparation
Pork Steak Tapa

Rub the pork with rock salt and wash under cold running water.
Pound the pork steak to tenderize the meat.
In a non-reactive bowl, combine the ingredients for the marinade. Pour half of the marinade over the pork and let stand for at least 30 minutes.
When making a big batch, you may portion the pork in individual vacuum bags.
Add the calamansi juice in the remaining marinade.
In a hot non-stick pan, add the oil. Drain the pork from its marinade, pan-fry the pork over medium heat until they are cooked through. When the pork is about to be done, add sauce with calamansi. Let it simmer for 5 minutes to let the sauce reduce slightly into a glaze. Set aside in the pan until ready to assemble.

Ensaladang Kangkong

Combine the vinegar and sugar in a sauce pan. Bring to a boil. Turn down the heat and let it simmer for a couple more minutes. Stir in the rock salt.
Place the pickling liquid over ice to cool it down faster.
Combine all the vegetables together in a non-reactive bowl.
Add the pickling liquid to the vegetables and let it stand for at least 30 minutes before serving.

Fried Onion Rings

To make the fried onion rings, toss the onions with Knorr Rostip Seasoning Powder and all-purpose flour. Deep-fry until golden brown. Strain then place on paper towels.

To Assemble

To plate, arrange 1 ½ cup of fried garlic rice on one side of the plate. Arrange pickled vegetables, fried egg, and pork around the rice.
Glaze the pork with some of its sauce. Top the pork with the fried onions.
Sprinkle the rice with garlic chips and spring onions.