Seafood in Chili Lemongrass Coconut Broth
Inspired by Thailand's Tom Yum Goong, this broth is fired up with sambal paste for full flavours and ease of preparation!
Main course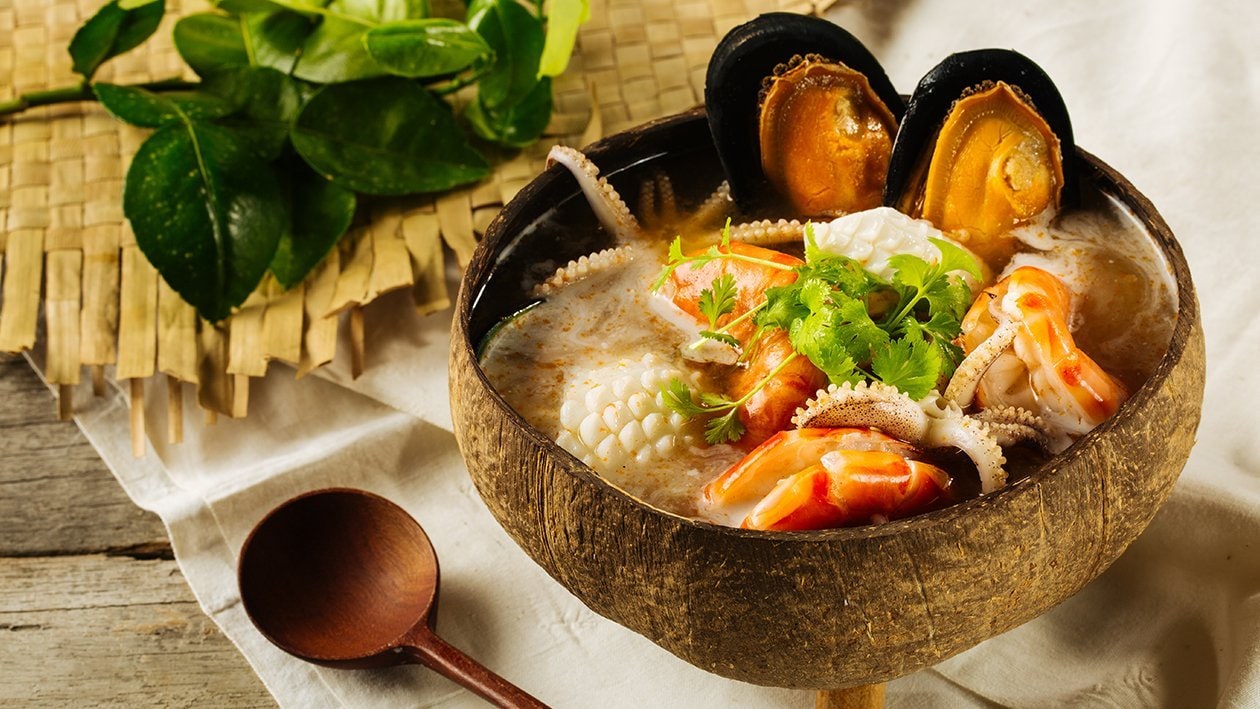 Ingredients
Paste Preparation
Sambal, market-form

180.0 g
Broth Preparation
Lemongrass, bruised

20.0 g
Seafood Preparation
Prawns, peeled and deveined

250.0 g

Squid, cross-hatch sliced

250.0 g

Fish sauce to taste

1.0 g
Garnish and Presentation
Coriander Leaves, washed and trimmed

10.0 g
Preparation
Paste Preparation

Combine Knorr Shrimp Powder, Knorr Chicken Broth, Knorr Sinigang sa Sampalok Mix and sambal in a bowl and mash them together to a paste.

Broth Preparation

In a stock pot, put the water and bring to a boil.
Add the paste mixture, coconut cream, fish sauce, kaffir leaves, and lemongrass and mix thoroughly until the paste or any solids dissipate.
Simmer and keep hot.

Seafood Preparation

Season the prawns and squid with Knorr Chicken Powder.
Add the prawns to the simmering broth.
Halfway through the cooking of the prawns, add the squid.
Add the cooked musells, then the mushrooms.
Taste and adjust the seasoning with fish sauce.
Turn the heat off and add Knorr Lime Powder for a citrus and refreshing finish.

Garnish and Presentation

Transfer the broth and the seafood into a serving bowl.
Rice noodles may be added to make a soupy noodle dish.
Chop the coriander leaves and garnish.