There are zero limits to what a salad dressing can and should be. Despite the rising popularity of vinaigrettes because of health concerns, you can still dress greens in luxurious, creamy sauces. Don't consider salads with mayonnaise outdated since many Filipino still prefer it over any other type. Here's a list of classic mayonnaise salad dressings updated for every type of diner today.
Green goddess dressing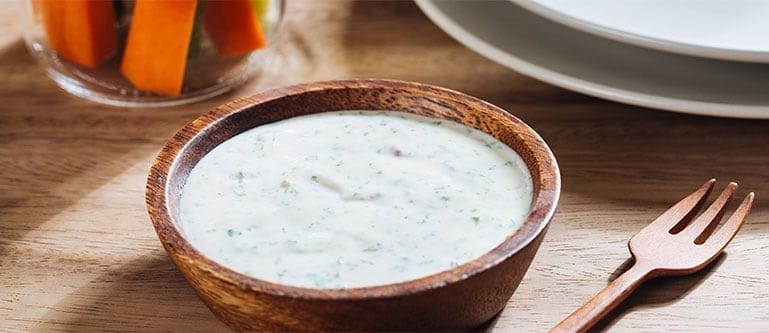 This old-school classic is a testament to how refreshing mayonnaise for salad dressings can be. While lesser known than its cousin, ranch, this more herbaceous form has become popular with healthy diners looking for something lighter on the menu. It has even evolved from its vintage 1920s reputation to cater to today's growing fit and food-loving demographic.
Imagine mixing Lady's Choice Real Mayonnaise and sour cream for a combination that alternates between airy and creamy as well as tangy and sweet. The key is to chuck in lots of chopped herbs to get the grassy color from where this dressing gets its name. Play around with chives, tarragon, cilantro, or whatever suits your dish most. Aside from salads, you can also drizzle the green goddess over a falafel salad, dirty fries, or Pinoy recipes with a twist like paella sisig.
Caesar dressing

The most common introduction to learning how to use mayonnaise in salads is through this dressing. Despite having many debated origins and recipes, Caesar dressing remains top of mind for many diners. Most casual restaurants even offer a version of a Caesar salad as it is one of the most ordered appetizers on the menu. As a side, it goes well with roast chicken, cheesesteak sandwiches, or a coffee-crusted steak.
Traditional Caesar dressing is made by whisking eggs, cheese, lemon juice, and anchovies together, but modern iterations have thrown mayonnaise into the mix for efficiency and flavor. The best thing about Caesar dressing is how few ingredients you need to get something this delectable. Imagine adding a twist by using local fish paste or bagoong instead of anchovies to your mayonnaise-based dressing. It would be a funky, fermented, salty, and well-balanced take on the classic.
Sesame kimchi dressing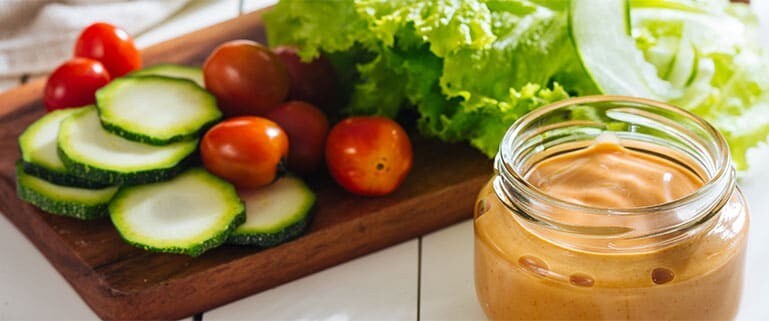 With all the Asian trends arriving on the restaurant scene today, it's time to introduce a more modern option to your menu. While there is no shortage of Asian-style vinaigrettes, a creamier mayo dressing is a welcome change. This dressing appeals to the more adventurous dining set, who likes trying out exciting flavors and sharing their opinions with their social media followers.
Mayonnaise works well with spicy flavors, as proven by the rising popularity of everything from kimchi mayo to sriracha mayo in Asian fusion restaurants. To make this sesame kimchi dressing, combine mayonnaise, rock sugar syrup, sesame paste or tahini, and lots of kimchi. Toss it with greens, drizzle it over crispy tofu, or use it as a dip for fresh spring rolls.  
You can find many other types of mayonnaise-based salad dressings to upgrade a plain bowl of greens. You can even already get ready-made creamy plant-based dressings by Hellmann's in the market. But your task is to pick the ones that will excite your diners and entice them to order from your appetizers. Consider this a chance to increase your menu's profitability as well. So, take your pick from the mayonnaise salad dressings above and experiment by giving them creative twists.