Crispy Bulalo and Bone Marrow Flan
Break the rules with this unique way to enjoy bulalo!
Main course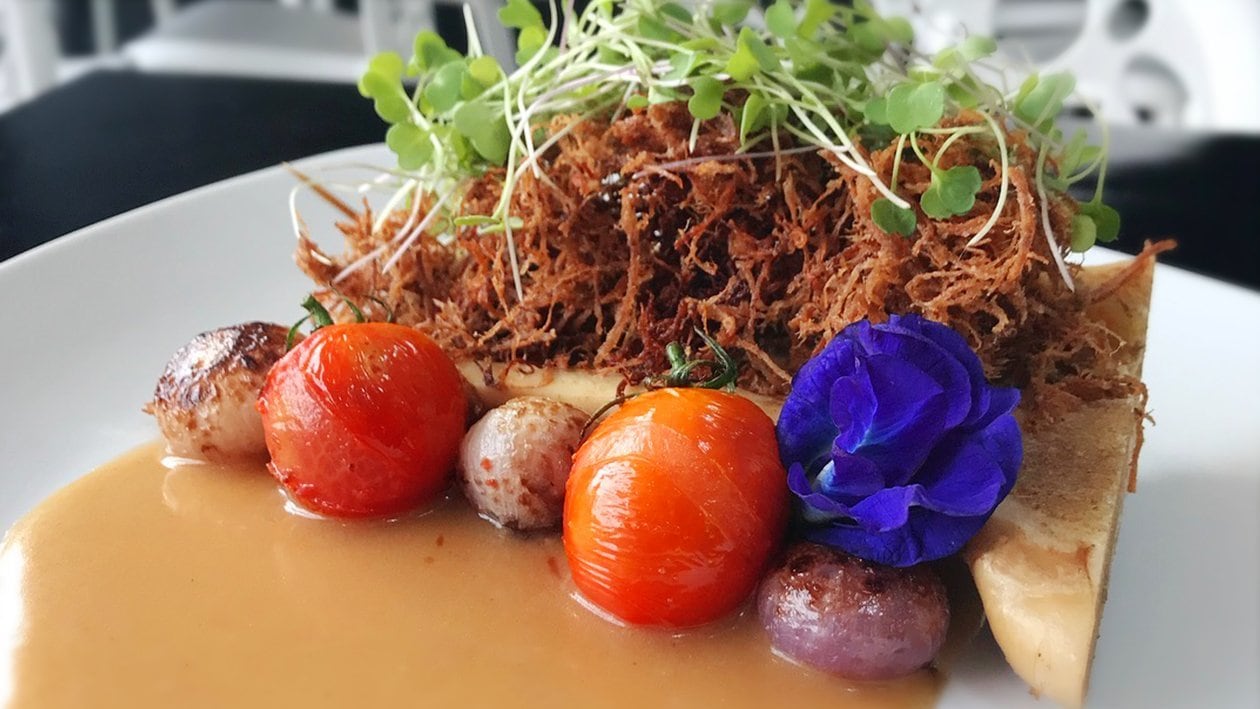 Ingredients
Crispy Beef
Black pepper, ground

1.0 tsp
Bone Marrow Flan
Spring Onions, sliced

2.0 tbsp

Beef Shank (Bone Only), Halved And Boiled, With Bone Marrow
Sinigang Gravy
All Purpose Flour

1.0 tbsp

Soy Sauce - light

1.0 tsp

Shallots, peeled and blanched

3.0 pc

Edible Flowers (Optional)
Preparation
Crispy Beef

In a small pot, combine water, salt, black pepper, beef brisket and Knorr Beef Cubes. Let it boil and cook until tender. Remove the beef brisket from the pot. Let it cool. Save the stock for the sinigang gravy.
Flake the brisket into fine floss. Season with salt and black pepper. Add the cornstarch until all beef fibers are well dredged.
Prepare the oil for frying. Fry until golden. Drain in paper towels to remove excess oil. Set aside

Bone Marrow Flan

Combine egg, cooking cream, parmesan cheese, bone marrow, spring onion, salt and black pepper. Mix until well incorporated.
Pre-heat your oven 200 deg F.
Prepare the halved beef bone and line both ends with aluminium foil. Pour the mixture and bake for 10-15 minutes until the mixture is cooked and well set.
Set aside once cooked.

Sinigang Gravy

In a small sauce pan, add the butter and cook until melted. Add the flour and mix until well combined.
Add the beef stock, soy sauce, Knorr Sinigang Mix Original and stir well. Simmer for 10 minutes.
Check the seasoning and adjust if necessary. Strain the sauce into a bowl to achieve a smoother consistency.