Learning how to compute senior citizen discounts is as easy as one-two-three! Follow this guide to make your restaurant a safe space for lolos and lolas. Plus, get pointers on ensuring they enjoy their benefits while keeping your business profitable.
Who Can Avail of Senior Benefits?
According to the Philippine Statistics Authority, senior citizens make up 8.5% of the population. And for all 9.22 million of them, nothing feels better than enjoying their retirement years comfortably and with less financial burden. As such, the government provides them with a range of exemptions and purchase discounts.
The Expanded Senior Citizens Act of 2010 states that Filipinos 60 years and over are entitled to certain privileges. These apply to payments made with both cash and credit cards.
Sec. 4 (a) of the act stipulates: "The senior citizens shall be entitled to the following: (a) the grant of twenty percent (20%) discount and exemption from the value-added tax (VAT), if applicable, on the sale of the following goods and services from all establishments, for the exclusive use and enjoyment or availment of the senior citizen."
Where can senior citizens claim their discount?
Republic Act 9994, or simply the "Senior Citizen Law," decrees that the benefit applies to goods and services from the following:
Domestic transportation
Healthcare
Vacations
Deaths
Medication
Groceries
Recreation
Restaurants
Keep in mind that inclusions vary for every benefit. Nonetheless, the computation for their deductions is the same. In the F&B industry, discounts cover food, beverages, desserts, and other consumables from takeout, delivery, and drive-thru transactions.
For detailed information on rebates and additional benefits for senior citizens, visit the Office of Senior Citizens Affair (OSCA) portal.
How to Compute Senior Citizen Discounts in Three Steps
Whether you're a hotelier or a restaurateur, knowing how to implement these deductions is crucial to practicing good business. To get started, here's a three-step senior citizen discount computation guide.
Step 1: Determine the amount of VAT-exempt sale.
Senior citizens are exempt from paying value-added tax (VAT). As such, restaurants should deduct this amount from the total selling price. For example, if your menu includes pork dinuguan and puto, here's how you should compute the VAT-exempt sale for an entire order.
The formula is selling price ÷ 12% VAT rate = VAT-exempt sale
Sample computation:
| | | |
| --- | --- | --- |
| SELLING PRICE | VAT EXEMPT RATE | VAT EXEMPT SALE |
| ₱450.00 | 1.12 (12%) | ₱401.78 |
Note: This condition only applies to VAT-registered companies. Disregard this step if your business doesn't fall under this classification. In such a case, the full selling price will be considered a VAT-exempt sale.
Step 2: Deduct the 20% discount.
Computing for senior benefits doesn't end with VAT deductions. Here's how to compute the 20% discount on specific products and services.
The formula is VAT-exempt sale x 20% = senior citizen discount
Sample computation:
| | | |
| --- | --- | --- |
| VAT EXEMPT SALES | DISCOUNT | SENIOR CITIZEN DISCOUNT |
| ₱401.78 | 0.20 (20%) | ₱80.35 |
Step 3: Compute the billable amount.
The final step is determining the total billable amount by subtracting the discount from the VAT-exempt sale. Here's how to do it:
The formula is VAT-exempt sale – senior citizen discount = billable amount
Sample computation:
| | | |
| --- | --- | --- |
| VAT EXEMPT SALE | SENIOR CITIZEN DISCOUNT | BILLABLE AMOUNT |
| ₱401.78 | ₱80.35 | ₱321.43 |
Basic Senior Citizen Discount Guidelines to Follow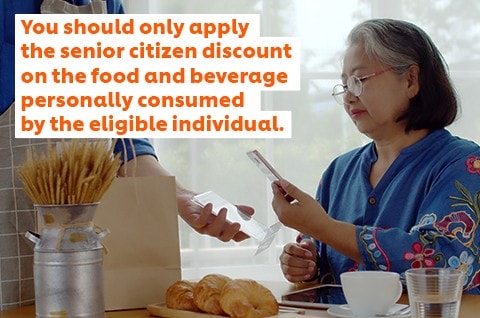 Implementing senior citizen discounts in the Philippines often goes smoothly. But now and then, a few new businesses can encounter issues. Educate your FOH staff on these basic guidelines to avoid confusion, disputes, and profit losses.
You should only apply the senior citizen discount on the food and beverage personally consumed by the eligible individual. For example, the discount for a pancit platter for five applies only to the senior member of the group.
Establishments should also offer discounts for smaller transactions. An example is an additional order of gravy for chicken galantina or a small saucer of Knorr Liquid Seasoning for sisig. You can charge an extra fee for this, but you should also include it in your discount computation.

When availing of the discount, the senior citizen must always be physically present. They must also possess a valid Philippine government-issued ID. In the absence of a senior citizen card, they can present their driver's license, Philippine passport, UMID card, or voter's, postal, PRC, GSIS, and GSIS ID.

For dine-in meals with shared food, the cost is first split among the number of diners before applying the discount. Remember: only the portion of the senior citizen should receive the deduction. For example, if a group of six with two seniors orders a platter of BBQ beef ribs with sides costing ₱1,335.00, the base selling price is ₱222.50. The discount per senior citizen is ₱39.73. 

For establishments offering takeout and delivery orders, discounts apply to the most expensive single-serving dish and beverage.

Establishments must issue separate receipts for senior citizen customers. This streamlines the payment process, avoids confusion, and helps in proper tax filing.
Providing discounts to the elderly is mandatory in the Philippines. Section 7 of the Senior Citizen Law states that violators will suffer penalties, including imprisonment of two to six years and a fine ranging from ₱50,000 to ₱200,000. Additionally, such offenses can result in the revocation of business permits, franchise licenses, and similar privileges.
Want to avoid these repercussions? Require your staff to learn how to compute senior citizen discounts for various transactions. Equip your FOH team with this know-how so they can address concerns from senior guests and offer the treatment these VIPs deserve.