The street food business is all about convenience, authenticity, and flavor. And unlike traditional restaurants, they require a relatively small capital investment. They're also more accessible, offering flexibility to experiment with diverse cuisines.
If culinary exploration is your goal, this is the opportunity you're looking for. It's a chance to try something new and learn from what your community likes. Food lovers will always crave new grub – opening a joint with a novel menu and concept is a surefire way to draw them in. 
Are you eager to try your luck at a street food business? You've got the right idea: The industry is full of potential. But to thrive in this space, you'll need a strategy. So, here's what you can learn from a few street-smart entrepreneurs who've already made their mark.
Negosyo Tip #1: Find Your Niche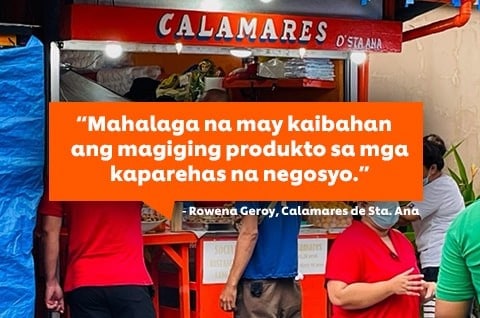 Your street food menu can make or break your business. Start with market research: Learn what the people in your community want so you can build a menu that piques their interest. But in a saturated space, simply doing what everyone else does is a recipe for failure.
So, you must innovate to set yourself apart. Be creative when brainstorming street food business ideas. And when you finally find your niche, aim to serve them exceptionally well.
Rowena Geroy, smart negosyante and owner of Calamares de Sta. Ana, did exactly that. "Mahalaga na may kaibahan ang magiging produkto sa mga kaparehas na negosyo," she observes. ("Your products need to be unique when you're competing with similar businesses.")
These days, business is booming – so much so that everyone in the Geroy family pitches in to run it. Their best-selling calamari has a cult-like following thanks to its secret blend of spices and crackling, crispy exterior. Unlike other versions, Geroy's product has more squid than flour coating, so customers feel they're getting a generous deal.
But there's more to the business' success than calamari and fried goods. Calamares de Sta. Ana also offers a flavorful homemade dipping sauce, sold in bottles for anyone to enjoy at home. Due to the high demand for their signature concoction, Geroy saw an opportunity to market it separately – a strategy her competitors have yet to pursue.
Negosyo Tip #2: Use Quality Ingredients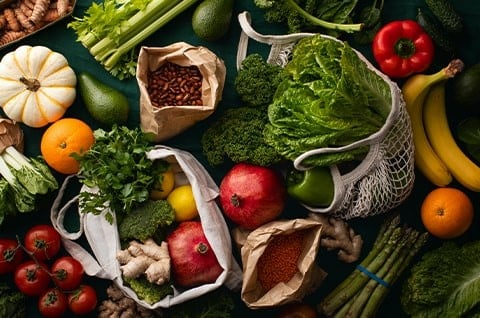 Premium ingredients ensure your dishes come out nutritious, delicious, and safe every time. Your utilities are part of the equation, too – after all, curbside stalls don't typically have easy access to electricity. For these situations, shelf-stable items like Knorr Sinigang Mix can be a lifesaver. Less to worry about! This versatile seasoning imbues classic soups, lechon manok, or a Pinoy-style banh mi with tons of flavor.
For the street food vendors of Calamares de Sta. Ana, 100% fresh seafood is their number one priority. As a result, their sukis always show up and leave satisfied. Geroy recalls how their inventory requirements have skyrocketed from three kilos to 100 kilos daily, demonstrating how important it is to invest in quality components.
When asked if they expected their business to grow so rapidly, Geroy says she didn't: "Ang aming akala ay magiging sapat lamang ang negosyong ito para sa aming araw-araw na pamumuhay." ("No, we thought it would only be enough to support our daily needs.")
Evidently, this humble side hustle has evolved to be much more than what the Geroys imagined it could be. Now, it's enough to be the family's primary source of income. No doubt, their commitment to serving quality dishes helped it along.
Negosyo Tip #3: Partner With Reliable Suppliers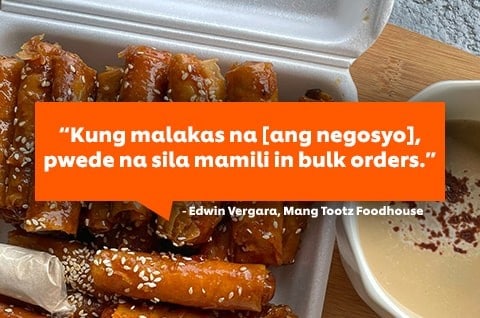 A well-stocked inventory keeps the wheels of your food business turning. But how do you balance ingredient costs with quality and profits? A foolproof strategy is buying from local farms, reputable wholesalers, and direct distributors, like Unilever Food Solutions.
Buying in bulk is a common practice among industry insiders because it's cost-effective, efficient, and increases output, among other benefits.
However, longtime entrepreneur Edwin Vergara of Mang Tootz Foodhouse advises newcomers, "Depende naman po sa takbo ng business, kung malakas na, pwede na sila mamili in bulk orders." ("It'll depend on the flow of your business. It's safer to place bulk orders when things are already going well.")
Mang Tootz Foodhouse is best known for Vergara's Bananarhuma: a caramel-coated take on the classic Filipino merienda, turon. Vergara, a former cruise ship chef, has been in the business since 1991. If the street food veteran has learned anything from his decades of experience, it's to never scoff at using ready-to-use products in your recipes.
"Malaking tulong po ito para lalong mapasarap at mabigyan ng magandang quality ang mga food nila," he explains. ("They're a big help in improving the flavor and quality of your food.") You'll be surprised how many professional chefs and vendors rely on everyday Filipino staples, like Knorr Liquid Seasoning and Lady's Choice Real Mayonnaise, to make their dishes pop.
Negosyo Tip #4: Listen to Feedback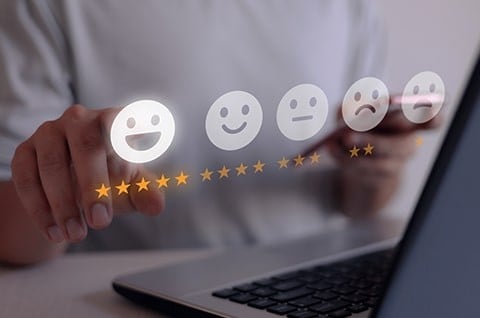 The folks of Calamares de Sta. Ana embrace comments and criticisms from customers as growth opportunities. "Magiging mahirap ang pagnenegosyo sa umpisa," says Geroy. "Pero ang pagtitiyaga at pakikinig sa feedback ng mga customers ay makakatulong sa pagtagal ng isang negosyo." ("Starting a business will be difficult. But being patient and listening to customer feedback can help make your venture last.") By seeking feedback and learning from it, you can:
Pinpoint your areas of improvement.
Measure your client satisfaction.
Create the best customer service.
Eliminate complaints from consumers.
Improve diner retention.
Provide data for making business decisions.
There are multiple ways for business owners to ask customers to evaluate their products. The most common method is to ask for it on the spot through after-meal surveys. You can also check social media reviews, comments, and suggestions to get a consensus on how to improve.
Negosyo Tip #5: Be Consistent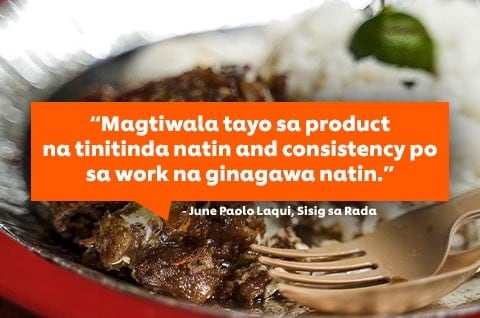 Consistency cultivates trust between you and your customers. Your reputation precedes you: by offering first-rate goods and services no matter what, your regulars will know they can rely on you. Their positive reviews and word-of-mouth can also help attract new business.
June Paolo Laqui, who inherited Sisig sa Rada from his parents, advises, "Magtiwala po tayo sa product na tinitinda natin and consistency po sa work na ginagawa natin." ("Have faith in the products you're selling and be consistent with the work you do.")
How does this '90s Makati-born eatery maintain the nostalgic and satisfying flavors of its sought-after sizzling pork dish? "We [use] Knorr Liquid Seasoning for our sisig and Knorr Broth Cubes for our other products," shares Laqui.
Today, Sisig sa Rada has expanded its menu to include more Filipino comfort favorites like tapa, lechon kawali, and laing. Despite the additions, the folks behind the food truck still deliver the quality customers have come to expect from them.

Here are some helpful practices for consistent output:
Consider investing in a street food stall if you're a budding entrepreneur looking for a versatile venture. The financial risks are relatively small since these kiosks require minimal puhunan to get going. And despite its size, operating a streetside stand offers numerous advantages. Owners can perfect their menu, build a loyal customer base, and gain hands-on experience – all without the stress and costs of managing a full-blown restaurant.
But as with any endeavor, success in the street food business won't happen overnight. Veteran vendors stress how crucial "pagtitiyaga, pagtitiwala sa sarili, at lakas ng loob" ("patience, faith in yourself, and courage") are, especially when starting out. Do you believe you have what it takes? Keep these tips in mind and start making moves now!