Knorr Beef Seasoning Powder 1kg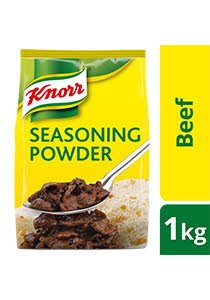 Packaging
List Price (Vat Inclusive)
Full product information
Nutrition and allergens
No added preservatives
Ingredients
Iodized Salt, Flavour Enhancer (Msg), Beef (Fat, Artificial Flavour, Meat And Natural Flavoru), Carrier (Maltodextrine), Cornstarch, Lactose, Sugar, Hydrolyzed Vegetable Protein, Spices, Palm Oil, Colour (Caramel), Anti-Caking Agent (Silicone Dioxide), Food Acid (Citric), Natural Flavour
Allergen Information
Contains: Milk, Celery
Nutrition Information
| Typical values | Per 100 g as sold | Per 100 ml as sold | Per portion |
| --- | --- | --- | --- |
| Energy kJ | 525.00 kJ | - kJ | 21.00 kJ |
| Energy kcal | 125.00 kcal | - kcal | 5.00 kcal |
| Protein | 0.00 g | - g | 0.00 g |
| Carbohydrate | 25.00 g | - g | 1.00 g |
| Cholesterol | 0.00 mg | - mg | 0.00 mg |
| Sugars | 0.00 g | - g | 0.00 g |
| Total lipid, fat | 0.00 g | - g | 0.00 g |
| Fatty acids, total saturated | 0.00 g | - g | 0.00 g |
| Fatty acids, total monounsaturated | 0.00 g | - g | 0.00 g |
| Fatty acids, total polyunsaturated | 0.00 g | - g | 0.00 g |
| Fatty acids, total trans | 0.00 g | - g | 0.00 g |
| Fiber, total dietary | 0.00 g | - g | 0.00 g |
| Sodium, Na | 15,750.00 mg | - mg | 630.00 mg |
Key product information
Description
A versatile seasoning made with real beef to boost the meatiness and aroma in many dish applications.
Packaging
Per Case (10 x 1kg)
Container
Per Piece (Pouch)
Usage information
Preparation
For Broth: Dissolve 20g (2 tablespoons) of Knorr Beef Seasoning Powder in 1L of boiling water. 1 pack makes up to 50L of broth.
For Stir-Frying, Marinating and Seasoning: Use 15g of Knorr Beef Seasoning Powder for 1kg dish preparation for improved flavour and taste.
Benefits
Made with good quality beef fat and blend of spices.
Storage
Close pack tightly and store in a cool and dry place.