Around the third quarter of each year, interest in the newest food trends and unique concepts increases for good reason. Food is the primary product many think of when deciding to go into business. And the holiday season brings with it an opportunity to start a venture with minimal investment but high returns.  Do you want a piece of this pie? Here are innovative small food business ideas to consider for the "ber" months.
1. Self-Heating Party Food Trays
Party food trays are standards for potlucks and last-minute gatherings. Platters are a favorite among consumers because of their convenience and affordability. But the time it takes to prepare the food and get the food delivered to customers, which can make them dissatisfied with your service. The solution? Make sure to prepare in advance for bulk orders by using foodservice products to avoid inventory problems and increase cost savings. To avoid cold food trays being delivered to customers, you can also prepare in advance by combining trays with the latest steam-heating technology.
Ensure food is piping hot anytime with this innovative upgrade, already available in the Philippines. With just a pull of a string, diners activate an auto-steaming bag beneath the tray. The tech allows customers to heat food directly from the container in 10-12 minutes. Some menu ideas are meatless lasagna, cheesy garlic baked tahong, creamy baked fish, and paella sisig. Following proper costing guidelines, food businesses can enjoy up to 30-40% profit margins from these recipes.
2. Themed Grazing Kits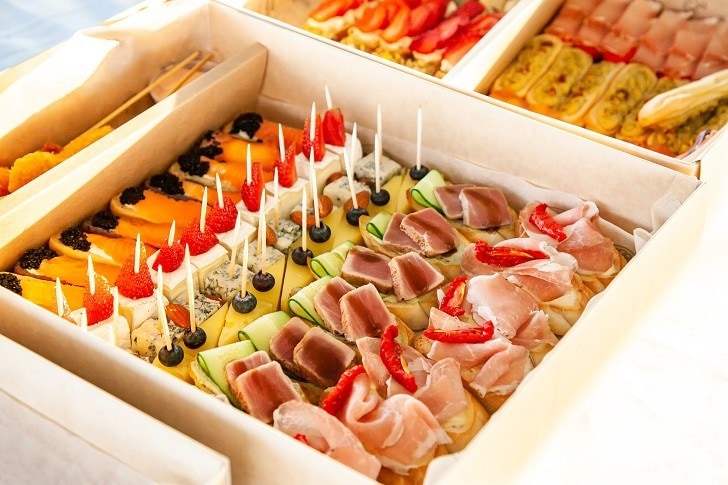 Catering services centered around charcuterie or grazing tables require planning and logistics. Take this out of the equation with grazing kits. To eliminate the need for a physical store, you can set up a cloud kitchen for kit assembly. Stand out from the pack by creating themed boxes featuring local products and artisans.
Give customers access to chocolate from Davao, cheeses from Laguna, and deli meats from the Cordilleras. Offer add-ons like a tin of vegetable chips with salted egg or bottled dip options like chili lime, sriracha mayo, honey-mustard, or spinach and artichoke. Create gift baskets with chips and dip you can sell separately.
3. Customizable Cocktail Box Sets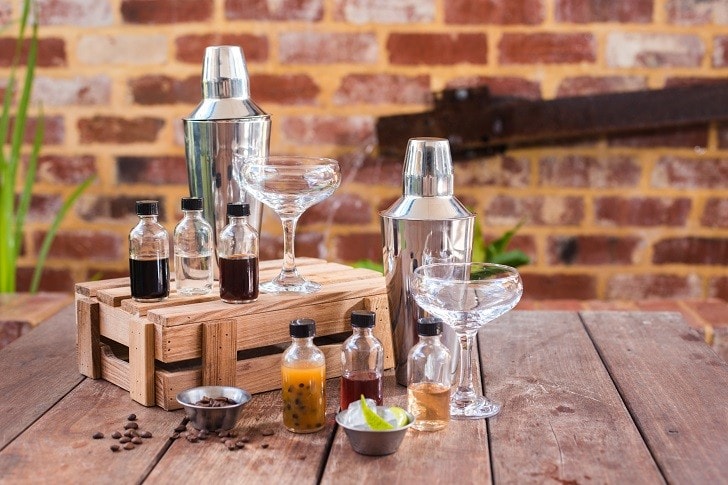 Mobile bars require time and workforce to set up. The business model also limits the number of customers you can cater to daily. Instead, why not get into cocktail boxes a la Christmas gift sets? This way, you offer a quick solution to many consumers' dilemmas in sourcing holiday alcohol. You can even start this small food business idea at home.
You can either sell complete kits as gifts or rent out equipment in portable boxes for clients organizing parties. Cocktail box sets are highly customizable; make sure you offer a selection of local and imported spirits, garnishes, and basic cocktail mixing essentials. At the same time, give the option of preselected sets, like a martini kit, that allow customers to make their favorite drink fuss-free.
4. Mobile Cafe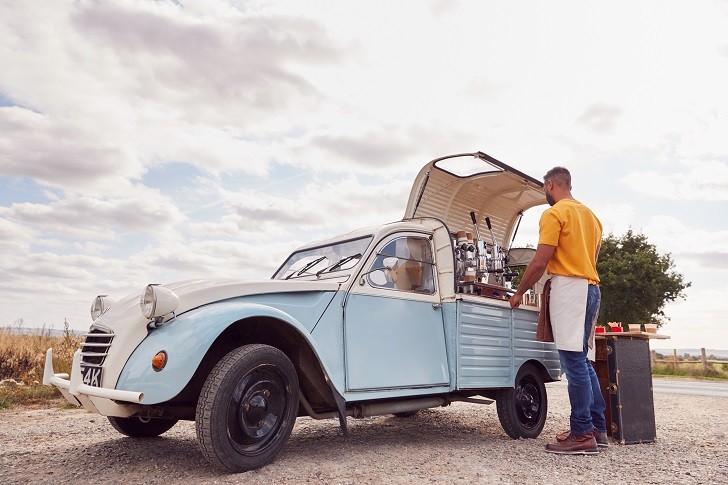 With minimal to zero rent expenses, roving coffee shops have lower start-up costs compared to traditional cafes. Setting up in a car or on a bike also allows you to pack up whenever and relocate to a spot where demand is high. This hybrid dining model also champions safety and convenience for you and your customers. Since you aren't confined to a particular location, taking advantage of the holidays is easier. You can park the portable café near a church and serve holiday drinks and snacks like bibingka and puto bumbong during Simbang Gabi.
5. Holiday Bazaar Food Stall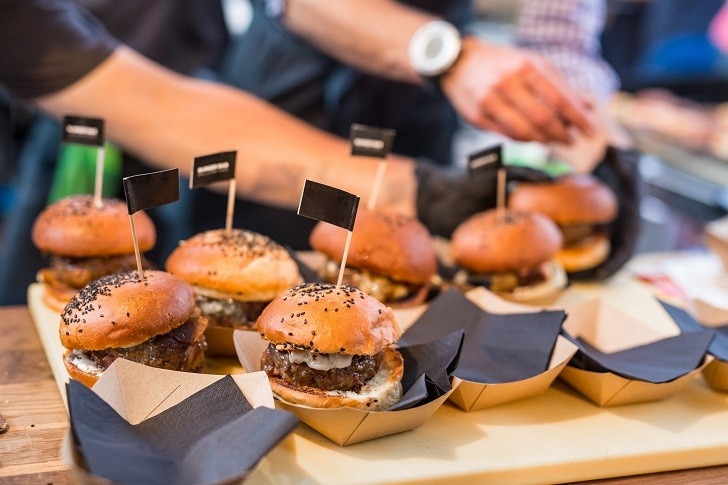 Christmas bazaars go hand in hand with the holiday season. It's the perfect venue to sell various goods, including food. Set yourself apart by selling hot and frozen vegetarian offerings. Because they don't require special cooking equipment, plant-based options are one of the food business ideas with small capital. You can source meat substitutes from The Vegetarian Butcher and turn them into fast-food favorites. For example, you can transform burger sliders into a vegetarian-friendly option with ready-to-cook NOChicken Burger.
6. Artisan Christmas Ham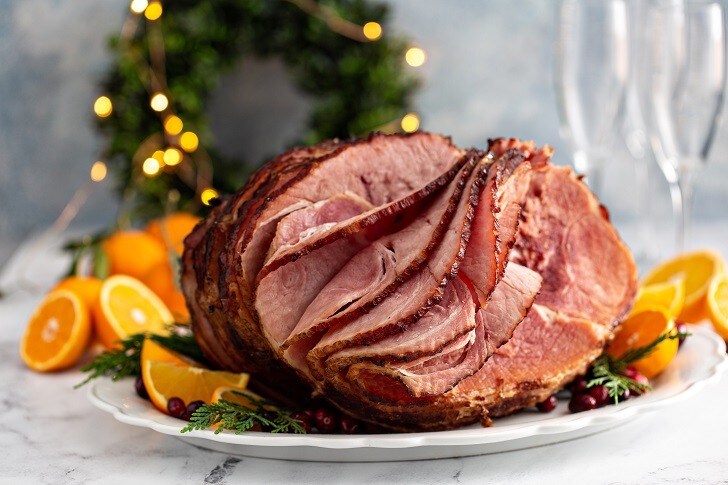 One of the most common holiday business ideas is making and selling homemade ham. Few purveyors, however, sell non-pork varieties. And as the price of goods continues to skyrocket, your goal is to provide customers with affordable choices. Rather than market traditional Christmas ham made of pork, offer chicken ham or a Pinoy chicken galantina. You might even want to develop recipes with a twist like salted egg bibingka or crispy holiday pancit. Besides selling whole pieces, make sure you also offer cuts and slices in affordable portions. 
7. Holiday-Themed Popcorn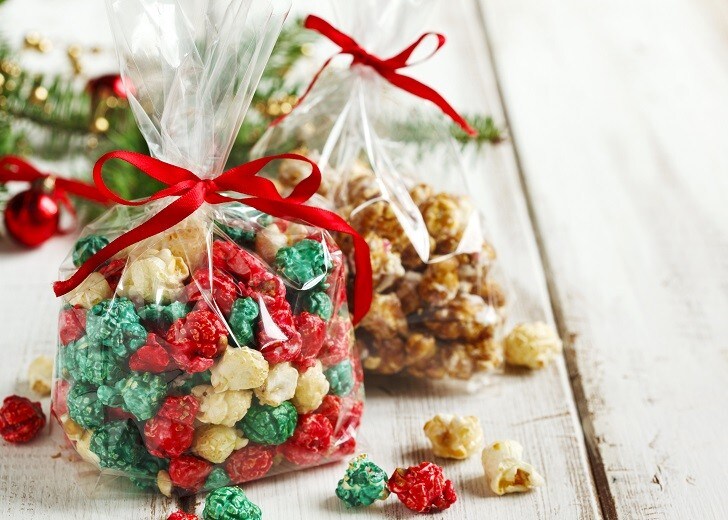 Capitalize on holiday celebrations and gift-giving by offering unique favors. Take inspiration from holiday flavors like s'mores, cinnamon, hot cocoa, and peppermint, and infuse them into popcorn, nut mixes, or granola. You can also sell flavors close to home, like queso de bola, toasted coconut, and salted egg. Or how about treats like alfajores cookies and salted egg almond crisps? Make sure to pack them into Christmas-themed bags or tins.
How to Start Your Small Food Business Idea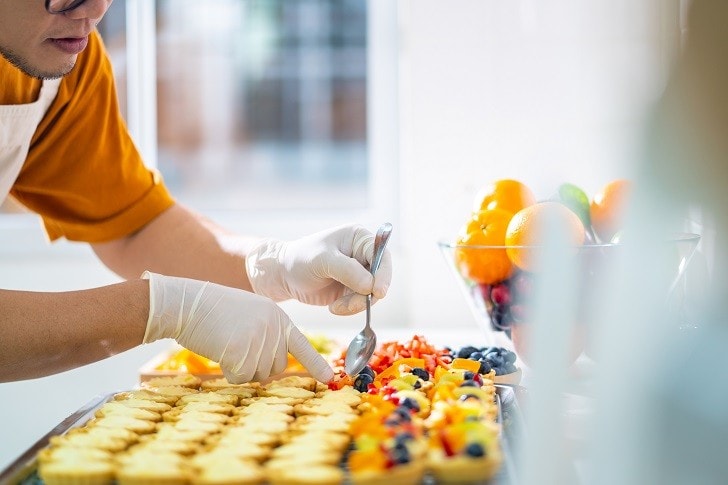 Understand your target market.
Study your market and understand the kind of patrons your business will attract. Studies and research also dictate your price points and which items would be most profitable. Your selection of products helps determine the expected return on investment (ROI). For example, a PHP100,000 investment on a single item yields profits in 4 months, while multiple offerings can reach ROI in half the time.
Know your competition.
Gain an advantage by learning more about your competition. Consider that many other people also plan to open a food business during the holidays. Scout other purveyors, check home-based start-ups, and visit websites to gather ideas and stand out. 
Test your product extensively.
Food is one of the most uncomplicated products to prototype. Perfecting it at home is inexpensive and convenient. Make sure that what you plan to sell is something you are willing to buy.
Use social media to advertise.
Social media is a reliable tool for advertising your business. You get a broader consumer reach and an inexpensive avenue to promote your brand and products. Don't hesitate to maximize its tools for enterprises.
Maximize the gifts of the holidays with these small food business ideas. You don't need the usual financial capital to set one up; innovation, patience, and hard work will bring you the numbers you need. You might even consider establishing a year-round enterprise once you see the results of your seasonal stint.
Need more dish ideas for your restaurant this holiday season? Check out our FREE downloadable eBook, Classic Pinoy Favorites with a Twist, for more recipes and inspiration for your next dish!