How did your business adapt when food delivery surged at the height of COVID-19? How much did you invest in pivoting your operations to cater to stay-in consumers? But have you heard the good news? While dine-in operations have returned to (or even surpassed) pre-pandemic levels, the popularity of ordering food to homes is here to stay. People have already incorporated food delivery into their consumption routines. So now, your task is to sustain your customers' interest by staying on top of online food delivery trends.
Sounds easy? But remember that trends in food delivery come and go. You need to be agile and work immediately when incorporating them into your menu. What is big today can be forgotten tomorrow. Still, seizing the moment and trying out these food delivery menu trends is a worthwhile pursuit. They can help you grow your sales in an instant. Just make sure to innovate constantly so you're not left out.
Currently, Mexican and Korean dishes have risen in popularity. Consumers are looking for food you can hold in your hand and eat on the run. Hearty dishes starring beef are also in demand. Here, learn about the trends your food business should be investing in. Plus, get recipes that can help in developing your menu.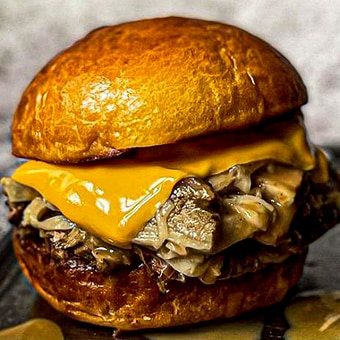 1. Get Your Burger On
From fast-food chains to fine-dining establishments, burgers are always a safe and popular choice. But if you want to showcase your innovation and attract more diners, come up with new burger creations no one has done before. For example, combine two online food delivery trends by releasing a lechon baka burger. You can make it a limited-edition offering at the start. If sales pick up, you can add it to your regular menu. You can also change things up with a different burger flavor every month.
Try doing this with our recipe, Lechon Baka Burger. Meaty and marinated in flavor-enhancing Knorr ingredients, this is a burger with a lot of bite. Don't be put off by the timings on this one. Once you've got the marination part done, you can breeze through the remaining steps.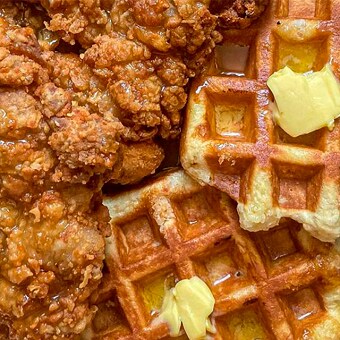 2. Winner, Winner Chicken Dinner
You'll never go wrong with fried chicken. And whether you prepare the dish the classic way or put a spin on it, there's always a market for it. You can serve it in a silog for breakfast, with spaghetti for lunch, or as a sandwich for dinner. The possibilities are endless! Make yours even better using this fried chicken brine shared by a top chef.
Create a new fried chicken twist with Crispy Fried Chicken and Waffles. Here's an American classic featuring flavor combinations that tick all the boxes. You get crispy chicken, fluffy waffles, and a maple cream glaze your customers won't stop raving about.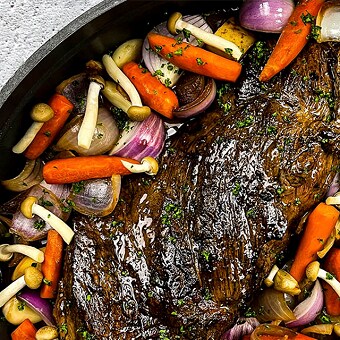 3. Beef is On Fire
Beef is the top choice when it comes to meat at the moment. Why not try introducing new beef-based dishes into your menu? Many online food delivery services shy away from this meat because of its price point. But you can always get creative with underrated cuts that are more affordable. 
A comforting hug of a meal, this Beef Pot Roast recipe has a timeless appeal that taps into this trend. Who can resist tender beef chucks cooked with red wine, herbs, and fresh vegetables?
4. Every Steak Lover's Dream
There are many ways to cook steak. Ask any carnivore, and you'll get a different answer on how they want it done. Take inspiration from this inclination by preparing DIY steak kits, another food delivery industry trend. Instead of cooking the beef for your customers, which will only make it dry and rubbery, prepare a guide for them to follow at home. Pack it with unique flavorings, seasonings, and sauces.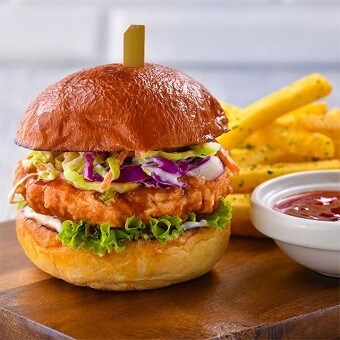 5. A Crispy, Juicy, Trendy Sandwich
Do you want to know the formula for the best-tasting fried chicken sandwich? Tuck crispy fillets between buttery brioche buns and team them with a creamy, citrusy slaw. A sure winner! Hearty, meaty, towering sandwiches are all the rage these days, thanks to their portability and versatility.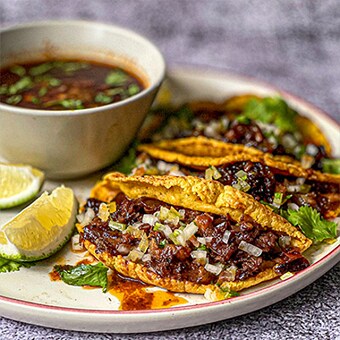 6. It's a Taco Party
Tacos are a more prominent feature on the street-food scene. The great thing about them is their versatility – you can make countless variations and twists inspired by ingredients from around the world. For the filling, go beyond beef, pork, chicken, and fish and offer mushrooms, innards, tofu, or other plant-based ingredients.
Try this trend out with this Birria Tacos recipe. Make this trending flavor using braised beef chunks and a variety of chilies. Serve the filling in a crunchy taco shell, stuffed inside quesadillas, or atop nachos. We also have a Summer Veggie Tacos with Ranch and Caesar Dressing recipe for those looking for a healthy recipe idea! This recipe features light, refreshing flavors that pack a punch. The base uses beans, mushrooms, and avocados. And for garnish, you can top it with mangoes and cilantro leaves.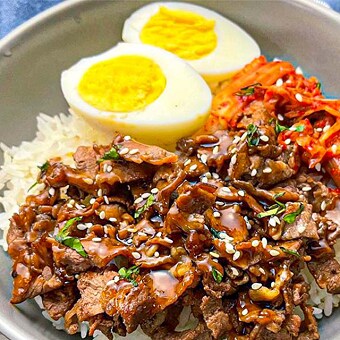 7. Keeping Up With the Korean Hallyu Wave
Filipinos can't get enough of anything Korean, especially the cuisine. Bulgogi, bibimbap, and kimchi have already become part of the local palate. Bank on this trend by incorporating more South Korean flavors, ingredients, and cooking styles into your lineup.
Get on board with the Korean trends with this Korean Beef Bulgogi Bowl. Fluffy Japanese rice, juicy slices of sweetish beef, tangy kimchi, and hard-boiled eggs make up this hearty bowl. Get this one right, and you're onto a winner! Take your bulgogi to the next-level with this Korean Beef Bulgogi Burger with Gochujang Mayo. Here, you'll stuff tender, caramelized beef and a creamy gochujang-kimchi mayo into a toasted baguette. It's a sure-fire hit among customers looking for a different take on the classic burger-and-fries combo. 
Don't wait until tomorrow to try these recipes! The key to staying ahead of online food delivery trends is to act with urgency. Chop-chop!
Learn about the latest food trends to stay ahead in the food industry and cook up new dishes to excite your diners with our 10 recipes!