When starting a food business, entrepreneurs prioritize menu and service, overlooking the crucial role of restaurant layouts in shaping the overall dining experience. However, a well-designed space – regardless of size – can lead to exponential gains, boost staff efficiency, and improve guest satisfaction.
Are you looking to make the most of a small space for your venture? Here's everything you need to know to optimize every section of your restaurant and unlock its full potential.
What Is a Restaurant Layout?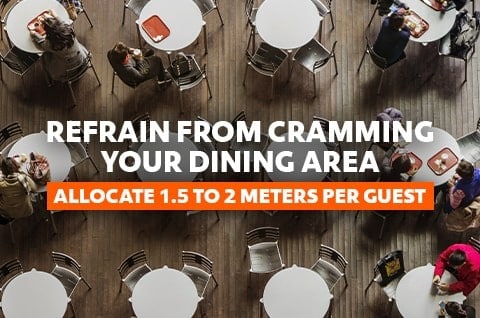 A restaurant layout, or floor plan design, is a visual showcase of the arrangement and organization of different spaces within an establishment. It illustrates the position and distance between each room or section and its contents.
A standard blueprint includes the following restaurant elements:
Walls
Hallways
Windows
Doors
Kitchen
Counters
Shelves
Sinks
Equipment
Light fixtures
Tables
Chairs
Electrical outlets
Restroom
Staff area or backroom
Emergency exit
How to Maximize Small Restaurant Spaces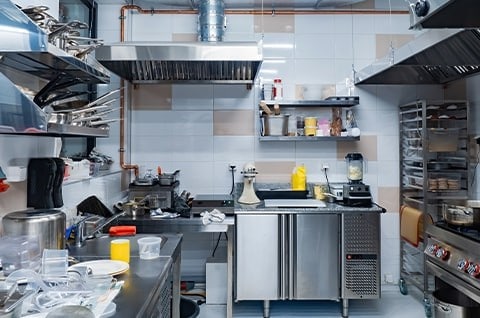 Typically, restaurateurs hire architects or interior designers for detailed restaurant floor plans. But if you're a small-scale business owner on a budget, you can still optimize your layout by following these basic principles.
1. The entrance
Consider your store entrance an opportunity to showcase creativity and reinforce your brand's identity. Utilize eye-catching signs, light fixtures, and decor to attract people and encourage them to step inside. In smaller spaces, your entrance doesn't have to be a conventional door. Think outside the box by using curtains and blinds – or leave it intentionally empty to create an inviting ambiance.
Pro tip: During downtimes, station a staff member by the entrance to greet guests, respond to queries, and promote your offerings.
2. Waiting area
As third-party food delivery becomes a norm, you'll need to allocate a section for pickups. Although a designated waiting area is not mandatory, it's a valuable addition to your space as it doubles as good PR. Consider preparing a row of chairs or a bench outside or near the entrance, where riders can sit comfortably.
In smaller restaurants, this section can also cater to guests awaiting seating during peak hours. Make sure to keep them entertained – offer complimentary snacks and beverages if the wait exceeds 30 minutes. Additionally, provide menus so diners can become familiar with the food options, streamlining the ordering process.
3. Dining space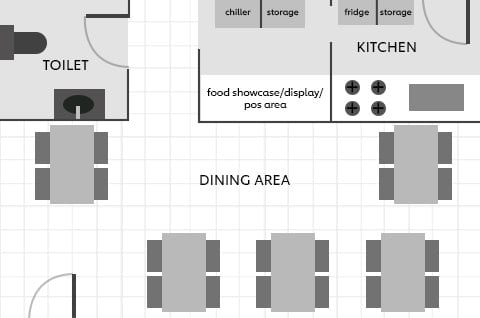 The dining room layout can shape patrons' moods and ensure FOH efficiency. A disorganized and crammed eating area will only hamper guest experience and disrupt restaurant operations. So, even with the limited space, you should provide enough room for people to move around without the risk of collisions.
Refrain from cramming the section with as many seats as possible. Instead, maintain the standard of allocating 1.5 to 2 square meters per guest. For tapsilogans and carinderias, consider utilizing a countertop or bar setup with long benches to accommodate more customers.
When selecting tables, here's a quick guide:
Tall tables are for standing-only or short-stay diners. You can find this setup often in bars.
Lower tables and chairs are comfortable and designed for extended stays.
Booths encourage longer meals. They are a terrific option for eateries catering to families or younger clientele.
4. Kitchen
The kitchen is the heart of any food establishment. If back-end operations halt, the entire business comes to a standstill. Thus, it is crucial to design zones for every phase of food prep, including cooking, washing, inventory management, and storage. An ideal kitchen floor aims to increase efficiency and ensure safety for all.
To optimize a small BOH area, consider incorporating versatile appliances and multipurpose tools. For instance, you can use a single stand mixer with various attachments to process proteins for meatballs, embutido, or chicken galantina. You can also use the same gadget to make fresh pasta or knead bread dough effortlessly. Using fewer pieces of equipment with multiple capabilities can free up valuable kitchen space.
Maximizing your kitchen also entails optimizing your menu. You can achieve this by curating a simple selection featuring versatile ingredients. For example, consider dishes that incorporate both Lady's Choice Real Mayonnaise and Knorr Liquid Seasoning, like pork sisig, beef tapa bahn mi, or beef shawarma wraps. With multi-use ingredients, you can keep your inventory small and manageable while still offering a variety of flavorful dishes.
5. Restrooms
The restroom reflects an establishment's overall hygiene and sanitation standards. Unfortunately, bathrooms are often an afterthought in small restaurant floor plan layouts because of the misconception that lavatories must be fancy. The truth is you only need a single communal restroom that's clean and functional. Allocating around 2 square meters of space should be adequate. Just keep it near the restaurant dining area and marked for easy accessibility.
6. Point of sale
The allocation of a point of sale (POS) or payment area depends on the business size. Larger establishments can have multiple stations – one for the bar area and another for the dining hall. In smaller eateries, a single pay-as-you-order system or tableside payment setup can suffice. If credit card terminals are unavailable, offer digital payment options via QR codes for convenience.
Why You Need to Improve Your Restaurant's Layout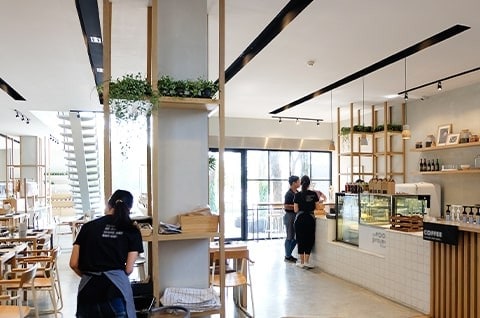 You should invest time and effort to optimize your restaurant layout for three main reasons:
Enhanced employee efficiency
A well-designed layout ensures smooth workflow and seamless operations. For waitstaff to do their job correctly, they need open pathways between the kitchen and dining area. This can lead to faster service, improved staff productivity, and better turnover rates.
Heightened comfort
Dining comfort is another major factor to consider. The layout can influence the overall experience of customers. A thoughtfully designed space creates a pleasant and comfortable ambiance, making customers feel welcome and relaxed.
Optimal restaurant capacity
A general guideline is to allocate 60% of your total floor area for dining. The remaining 40% is for the kitchen, prep area, and storage. Creating this balance allows for an efficient use of space and maximizes sales without negatively impacting diner comfort.
Follow these recommendations to optimize your restaurant layout for maximum efficiency and revenues. Don't let a small space limit your ability to create a unique experience for your customers. Embrace the challenge and get creative in utilizing every corner of your establishment.