Party season is just around the corner, and it's time for a new holiday menu for your catering business. Filipinos are festive people, and the "ber" months often signify higher consumer spending and more hungry customers to capture. However, it also means that, as a business, the external landscape in the food and beverage industry becomes more noisy, aggressive, and competitive. Every business will be fighting for its share of voice, getting creative with holiday-themed catering menu ideas, and spending on advertising.
The challenge: How to design a strategically competitive menu creative and festive enough for the season?
Here is a roundup of some Christmas menu ideas for the Philippine market. Plus, get tips on packaging and delivery to ease your holiday operations.
Catering Business Menu Ideas For the Holidays
1. Serve mains that are familiar and comforting but offer creative twists.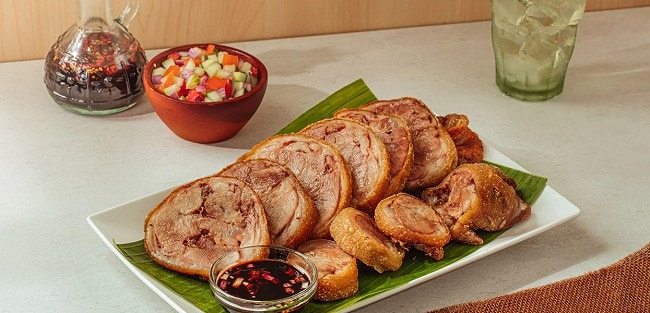 It isn't a holiday party without big, meaty roasts at the center of the table. Think lechon, cochinillo, whole ham, or roast beef. Include at least one showstopping beef, pork, or chicken dish among your catering food menu ideas.
A beefy lechon baka or a classic lamb roast is an indulgent standout. Make traditional holiday menu dishes exciting by incorporating new flavors. Use local ingredients like lemongrass, black pepper, and Knorr Liquid Seasoning to add a Filipino touch to an otherwise Western-style      roast turkey. Or remove the hassle of picking out bones at the noche buena table with a boneless crispy pata.
No roast is complete without sauces, and there are tricks to preparing them in bulk. Made with real mushrooms and spices, Knorr Gravy Mix can cut your preparation time from hours to minutes. You can serve gravy alongside almost any meaty dish on the menu.
Remember to offer variety and consider options for vegans, vegetarians, and pescatarians, too. Include a sinigang-flavored prawn paella or a cream, cheesy baked fish, and plant-based choices like sisig or burgers.
2. Offer pasta, pancit, and noodles for carb lovers.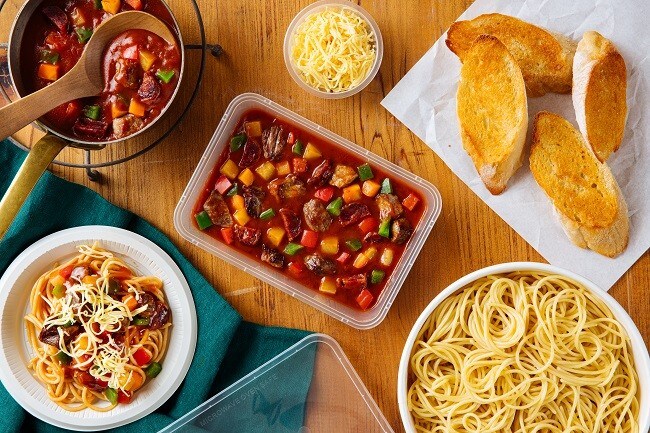 It isn't a party if there are no noodles! Pasta is a favorite among Christmas Eve menu ideas in the Philippines. Baked spaghetti or lasagna is a go-to because it's quick to cut and serve in individual portions. Skip the familiar red sauce and prepare a white sauce lasagna with spinach, mozzarella, and Parmesan.
To make a creamy pasta dish that doesn't spoil quickly, use Knorr Cream of Mushroom Soup as the sauce base. It's packed with real mushrooms and omes together in 5 minutes. Use it for a truffle-based or garlic-mushroom cream pasta.
Pancit is also a reliable choice to serve at parties with both kids and adults present. Want to stand out with a creative catering menu idea? Serve a deep-fried crispy pancit for a new way to enjoy the well-loved egg-noodle dish. 
3. Include appetizers, sides, desserts, and beverages to increase average order values.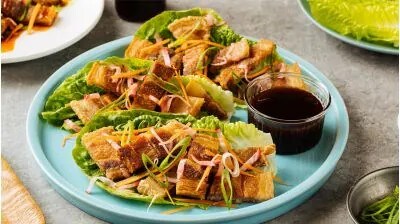 Now that you have your proteins and starchy dishes, you can focus on increasing sales via menu add-ons. Offer appetizers, side dishes, desserts, and beverages that can go alongside your mains.
The costs of acquiring a client in a competitive season are high. You can make the most of each captured customer by encouraging high-average order values via menu design. Not only will this increase revenue, but it will also enable more efficient marketing spending.
Remember that most holiday parties are in family-style, sharing, or pass-around formats. Make sure to offer appetizers, side dishes, and desserts following this setup. Lettuce wraps with crispy lechon kawali, fresh lumpia with ube, and sliced assorted cakes are great catering food menu ideas to start.
Vegetable-based sides and refreshing salads help cut the richness of indulgent holiday food platters. Opt for chopped salads made with grilled or blanched vegetables that hold well in transit compared to fresh salads. Package each component separately to avoid spoilage. And provide your customers with a small print-out of instructions to toss the salad together upon serving.
4. Provide set menu options.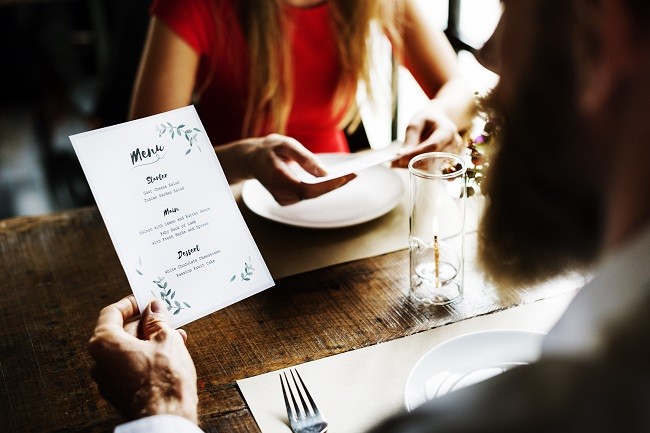 Make decision-making easy for customers by creating set menu options with fixed prices. Have all components of a full Filipino meal in each set: appetizers, main dishes, side dishes, desserts, and beverages. You can offer a price list for the number of servings needed and stay flexible for requests on smaller or larger quantities.
Sets are also a great way to bundle higher-margin items with higher-cost items, protecting your bottom line. Because increased margins let you spend more on marketing, advertising, or operational services, you can incentivize purchases by offering free delivery or a complimentary side dish.
5. Make delivery and unboxing easy for customers.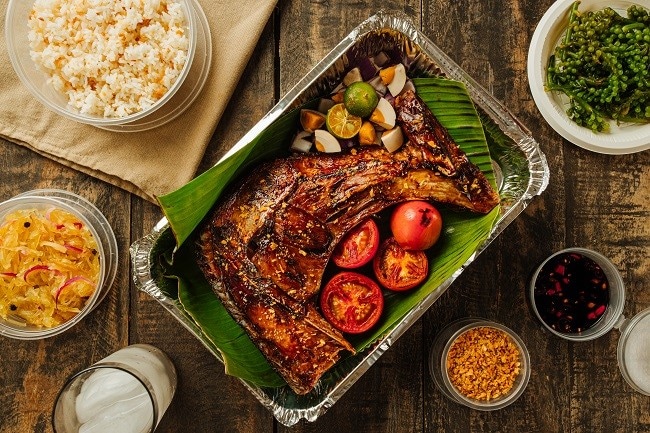 Transporting your catering food items from one place to another can be tricky. Customers will always have high expectations for quality food and packaging. For saucy dishes, use aluminum trays with tight covers to avoid spillage. It's also best to keep hot and cold dishes in separate containers or bags. If you have fried dishes on your menu that need to stay crisp, punch holes on the packaging covers to help steam escape.
And whenever possible, opt for recyclable or sustainable packaging options like paper boxes and bags to minimize waste.
Make your catering business menu stand out with thoughtful dishes and a streamlined customer experience. Pair these efforts with strong promotions on new items to reap the benefits of being well-prepared for the holidays.
If you are wondering how to cut costs, preparation, and cooking time with Knorr Professional's commercial-sized ingredients,subscribe to our newsletter for more tips and recipes straight to your inbox.
We're here to help you and your business, whatever the size or scale of it.