Pasta with Mussels, Tomato and Olives
The popular and versatile shellfish, mussels, get smothered in a rich white wine-tomato sauce loaded with black olives for a lip-smacking dining experience. It's so good, your diners will crave seconds.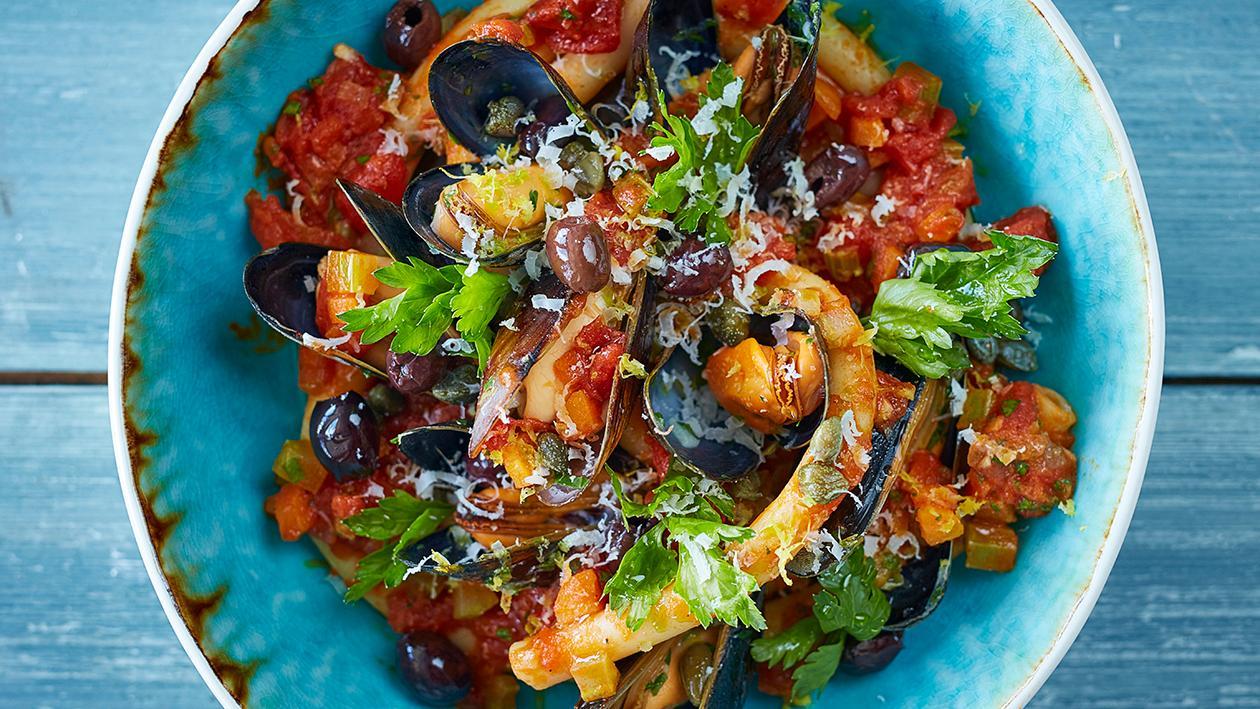 Ingredients
Pasta
Mezzanelli or Spaghetti

500 g
Sauce
Shallots, finely chopped

80 g

Celery (small cubes)

200 g

Carrot (small cubes)

200 g

Salted Capers (rinse the capers in cold water)

Taggiasca Olives (small black olives)

Knorr Napoli Tomato Sauce 750g

300 ml
Plating
Preparation
Pasta

Boil the pasta el dente in water with salt until 3/4 cooked.
Mix in some olive oil and let it cool down on a tray.

Sauce

Roast the garlic in the oven at 150°C until puffed and soft.
Clean the roasted garlic, chop and keep aside.
Fry the onion, celery and carrot in olive oil.
Add the white wine and allow the alcohol to boil out.
Add 1 tablespoon of the chopped garlic.
Add Knorr Napoli Tomato Sauce and simmer for 5 minutes.
Season the sauce with salt and black pepper.
Add the mussels to the sauce and boil until they open.
Squeeze some lime juice into the sauce.
Mix with the pasta and serve.

Plating

Spoon the pasta and mussels into a deep plate.
Decorate with the olives and capers.
Finish with parsley and grated parmesan cheese.