When people think of Asian cuisine, Filipino food isn't the first or even the second thing that comes to mind. For most, Chinese, Japanese, Korean, Vietnamese, and Thai dishes are the representative food of the region. While there has been a steady increase in curiosity towards Filipino food, one does have to ask: "What defines Filipino cooking?" This age-old question is almost always impossible to answer without breaking a sweat because it requires digging into the country's long and colorful pre-colonial and colonial past to even give half an answer as to why Filipino food is as diverse as it is.
Our cuisine's complex combination of flavors—sweet, salty, and sour all at once—has puzzled both chefs and diners around the world. Is it closer in taste to European, American, or Asian cuisine? Perhaps it is because Filipino food is impossible to categorize in a box that it has stood in a category of its own.
We have a lot of heritage dishes that have been passed down for generations. All these well-loved dishes have become the ultimate comfort food especially for those living overseas. But in more recent years, chefs have started to experiment with modern techniques but still keep the distinct taste we grew up with.
There are probably as many Filipino dishes as there are Philippine islands, but here are the most popular ones that are redefining our culinary landscape. Read on because we have 9 recipes that you can easily add to your everyday menu or even offer for the holiday season. We have delivery tips too!
The Best of the Best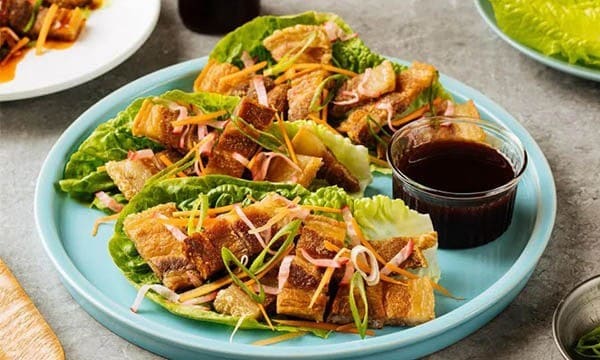 Trust every guest to be in awe with a truly Filipino take on samgyupsal! Golden, crackling fried pork belly wrapped in lettuce leaves creates an interesting combination of textures that you won't find in regular samgyupsal. Tangy pickled vegetables and a sweet-spicy gojuchang sauce tie the dish together for the ultimate satisfaction! Keep the dish fresh after delivery by packing the lettuce leaves separately from the pork filling!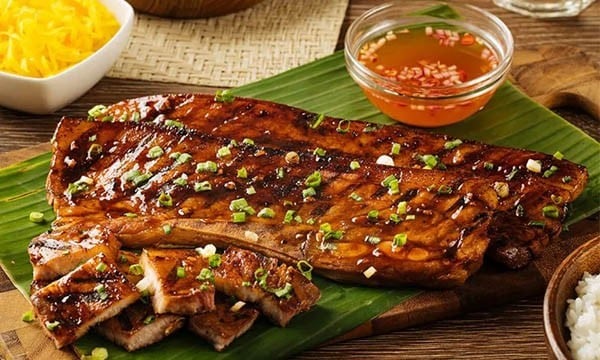 Create a dish brimming with bold flavors using only simple ingredients! Add Knorr Liquid Seasoning to flavor your pork belly marinade and glaze with a savory umami taste! Brushing the Liempo with the sweet glaze adds a layer of flavor and prevents it from drying while in transit. Turn this into a complete meal with a side of rice and sour ensalada!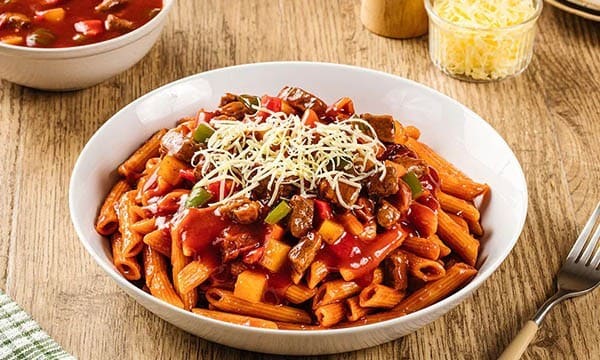 This rich tomato-based stew is traditionally enjoyed with rice, but did you know that it goes well with pasta too? The combination of tomato sauce, chorizo bilbao, sweet bell peppers, and pickle relish results in a distinct flavor profile bursting with Filipino and Italian flair all at once! Achieve a rich beefy flavor in just 5 minutes with Knorr Beef Broth Base. To avoid soggy pasta noodles, pack the sauce in a separate spill-proof container!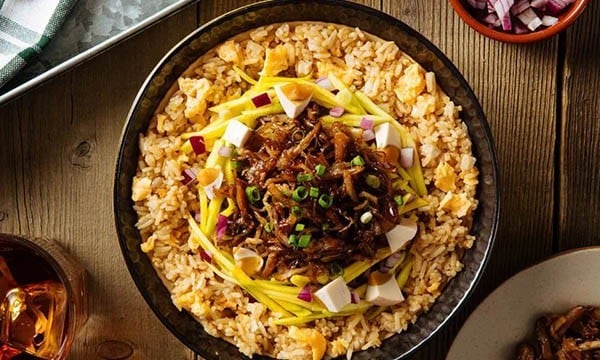 Would this even be a list of Filipino food without the mighty adobo? This meaty dish stewed in soy sauce and vinegar and spiced with peppercorns and bay leaves has been the topic of much discussion. There are already so many variations of adobo out there, but creative Filipino cooks still continue to find ways to reinvent this national favorite. Take a look at our toasted adobo recipe that's shredded and fried to crispy, golden perfection! Make sure to drain all the excess oil from the meat before packing to keep them crunchy during delivery.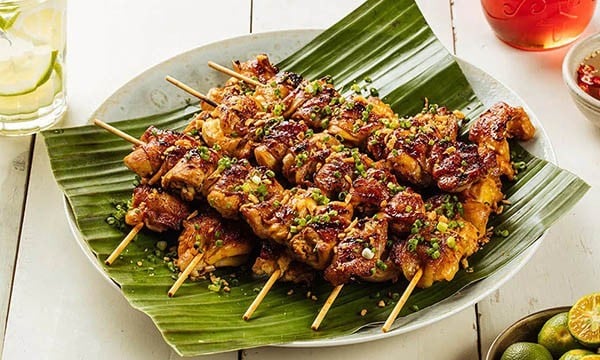 Chicken inasal is a simple but delicious dish that you can serve without the hassle of spending too much time in the kitchen, and it all boils down to three steps: marinating, grilling, and basting. The typical flavors you get from an inasal marinade are a sweet-savory combination of soy sauce, brown sugar, garlic, and calamansi or vinegar for some sour notes. Use Knorr Chicken Powder to retain the umami flavors even after reheating so your customers can enjoy inasal like it's just hot off the grill!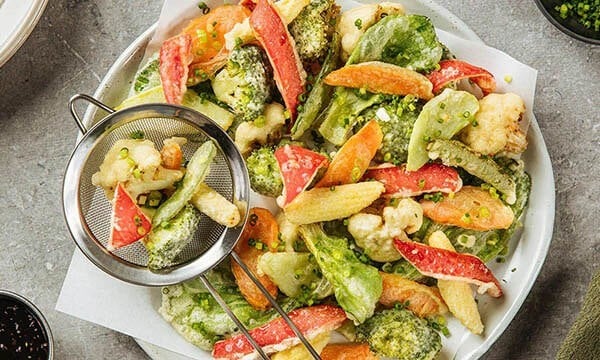 Delight Filipino foodies with this take on chopsuey! Colorful slices of carrots, broccoli, cauliflower, and bokchoy are coated in a light and crispy tempura batter transforming the saucy dish into a crunchy appetizer that your customers will love munching on. Serve with our signature Knorr Oyster Flavoured Sauce for a complete Asian experience! Package these goodies in paper based materials to retain the crunch!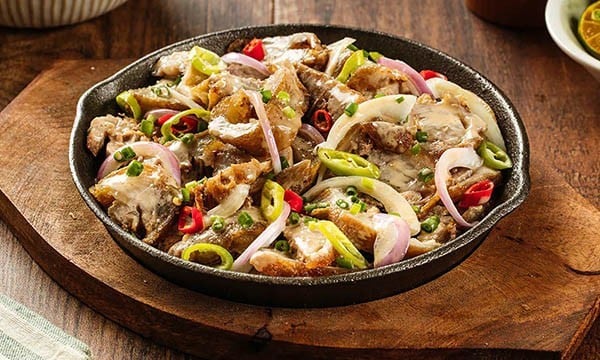 Chopped, crunchy pork bits are tossed in a creamy calamansi mayo with onions and chili. This becomes an upgraded version of an Ilocano classic that's traditionally made with grilled pork parts. Serving this with some steaming white rice is enough to impress your customers! Just make sure to keep the mayo in a separate container to keep your pork crisp!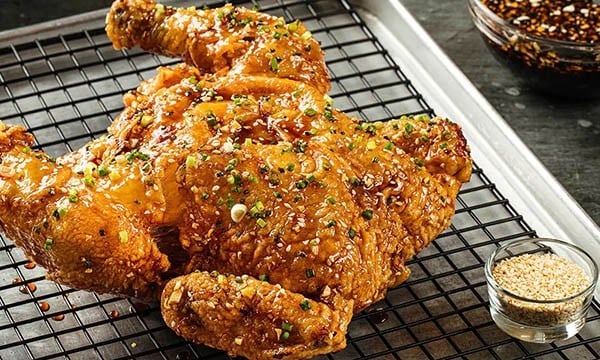 A staple at every occasion—from birthday feasts to holiday spreads—fried chicken is a comfort dish that we all love to love. Level up the flavors by swapping the usual salt and pepper seasoning with a garlic soy glaze, that can be easily achieved using Knorr Liquid Seasoning and Knorr Rostip Powder for the perfect garlic aroma. Your customers will be craving this dish for days on end! It's perfect to serve with rice or some pancit for long life. When delivering, use vented take-out containers to keep the skin from getting soggy!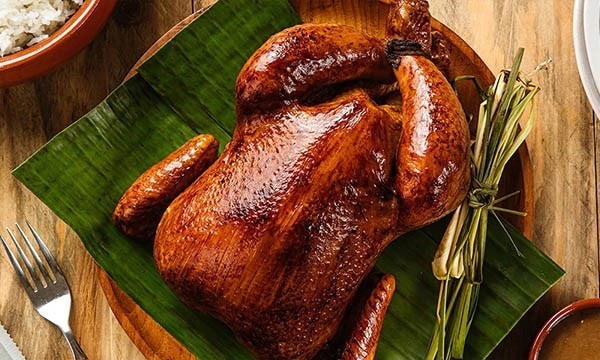 This Filipino roast chicken never falls behind on flavor! Carefully marinating it in select quality seasonings will give you savory, juicy meat that is delicious to the bone! It's easy to maximize this dish as it can be used in salads, sandwiches, rice bowls, and even pasta. When serving as a main, you could look into packing it whole or in chops.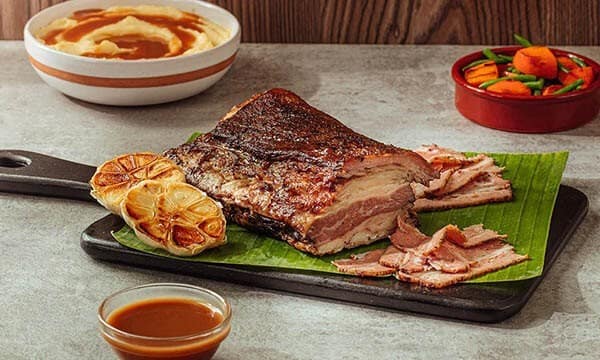 This take on lechon is currently the talk of the town! Add this rich, beefy dish to your menu to attract more customers. Use Knorr Liquid Seasoning in the marinade and glaze to create an unrivaled umami taste that perfectly compliments the fork-tender texture of the meat!
Explore Regional Eats
While it's great to always have these classic favorites on your menu, there is also a wide array of regional Filipino dishes that deserve to be explored. If you want your customers to keep coming back, creating exciting new experiences through flavorful food is key to generating interest. With the inaccessibility of traveling, these regional specialties can also serve as a great way to bring other Philippine provinces closer to your customers.
To get a glimpse of the overall culinary landscape of each region, you only have to look at their topography. Luzon, which is mostly a fertile mountainous region, incorporates a lot of vegetables in their dishes like the famous pinakbet of Ilocos. Being the seat of Spanish colonial power, dishes in this part of the country are heavily influenced by Spanish cuisine, characterized by rich and hearty stews and rice.
Meanwhile, in the coastal region of Visayas, fresh seafood reigns supreme. Some local favorites include aligue rice and baked cheesy scallops and oysters. The popular Ilonggo soup laswa combines juicy shrimp with squash, eggplant, string beans, saluyot, alugbati, okra, and tomato for a healthy and clean flavor.
Lastly, Mindanao, because of its history with neighboring Southeast Asian countries, has produced a culinary culture defined by bold and flavorful spices as seen in delicacies like beef rendang and piyanggang manok.
A Fusion of Flavors
The innovation of Filipino cooks through centuries have definitely brought about a unique blend of flavors with traces of Spanish, Chinese, Malay, American, and Japanese culinary influences. But even with all those flavors incorporated into ours, every dish we create somehow still manages to stand out as distinctly Filipino.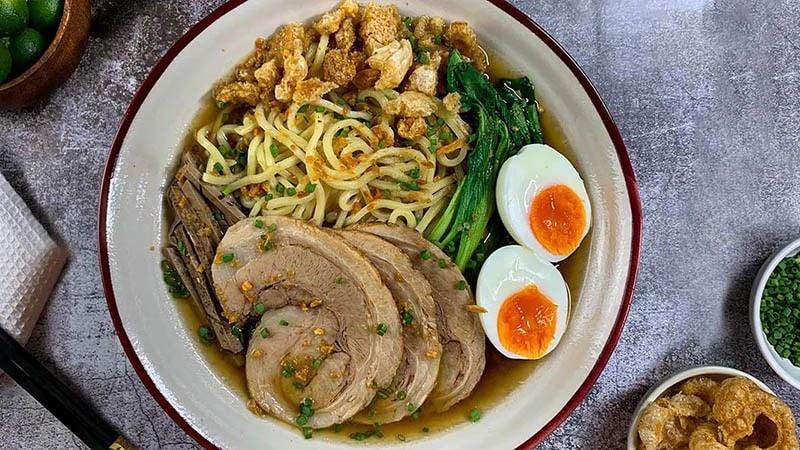 It is said that fusion cooking originated in the Philippines before it even became a thing. By creating new versions of already existing dishes, we're able to bridge our local and traditional culture with modern trends that will make even more people around the world curious to try our food.
Check out these recipes:
With over 7,000 islands, it's really no surprise how rich and diverse the culinary landscape is in the Philippines. It's a hodgepodge of flavors and textures skillfully combined to complement and contrast each other. Through this rich cultural history and creativity, Filipino food is able to bring a one-of-a-kind experience to every table or country it graces. Cook up and deliver iconic Filipino flavors to all your customers for the holiday season or better yet, for all seasons!